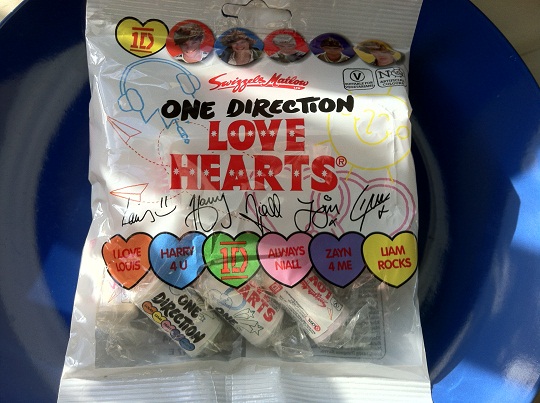 I adore Love Hearts. Partly this is nostalgic. I remember them as a child, pulling each one out of the packet to read the message. It all seemed so exciting. Partly because they taste great. And partly because I don't have any little fingers trying to grab them. My son doesn't actually like them, he says they're too fizzy. All the more for me!
Swizzels Matlow, a family run UK company, make Love Heats, and naturally Valintine's day is a big time of the year. For last Valentine's we reviewed the limited edition Love Hearts tin (RRP £2.49)- you can read the review here. This was a big hit for me, packed as it was with mini little Love Heart treats, and good value for money.
This time we've looked at two other Love Hearts products, one of which includes those lovely (or gorgeous, depend on your age) lads from boy band One Direction. Or is it 1Direction?
The One Direction bag of mini Love Hearts is available through Tesco Extra stores. Each roll of Love Hearts is signed by a member of the group. So quite a fun bag of sweets for a young One Direction fan. In addition, there's a competition on the website for tickets, and you can get a personal 1D Love Heart message.
The other item we recieved was the 325g Love Hearts Sweet Tub. You get 30 mini Love Hearts rolls in there, making it absolutely perfect for, say, a class gift. Which is what I used it for - handed the tub to the teacher and as there's 28 in the class there was even enough for the teacher and TA to get a roll reach. Pretty good value I thought at an RRP of £3.