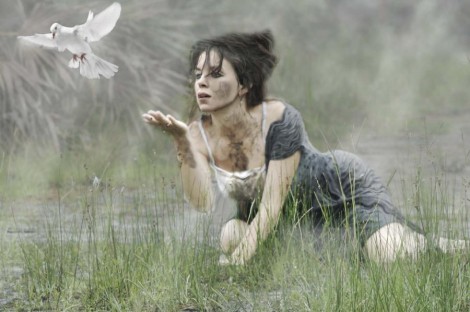 Mother's Day is upon us so if you still haven't bought your mum anything (naughty, naughty) because you've been manically busy or just plain forgetful, then perhaps these products will be just in time to help you out.
The Dove range sent through to our Mum Panel for testing this month was specifically for making your skin look creamy and divine. We sent out a bunch of different products to mums from all walks of life and demanded that they tell us exactly what they think.
Dove Visible Effects Hand Cream

When we first uncovered the cream the packaging and initial impression were not that great. "I found the packaging very corporate, but also very Dove," said Joanna, "The smell was divine but I did find it a little thin."
Our other mum agreed that the packaging was a bit bland but not that the cream was too thin, "I liked the fact that this didn't feel rich and heavy on my hands," said Vicki, "It was very light and absorbed into the skin quickly. This is rather important to me as I have three kids and I don't have the time to waft my hands about while waiting for them to dry out."
The cream is quite durable but you do need to apply it often. "I think it is good value for money but you do have to use it frequently so it may run out pretty soon," said Joanna.
It came in at £2.99 at Boots so we think that it definitely is a budget cream, even if it needs regular application.
"Yes, I agree with Joanna but I must add that you only need a tiny bit each time," said Vicki, "I didn't feel as if I had to pour tons on my hand to get results."
"I would probably buy this because I love the smell," said Joanna, "But as an everyday cream not as one to fix really dry hands."
Dove Visible Effects Body Lotion

The Dove Visible Effects range has been designed to really soften and smooth out your skin, and has all sorts of fabulous ingredients included. The body lotion is just as yummy as the hand lotion but seems to offer up far more moisturising.
"I've been using this after every shower since I got it," said Vicki, "And I have to say that I love the way my skin feels afterwards. Really soft."
"This is a light, smooth moisturiser with a fantastic fragrance," said Joanna, "I found it non-greasy and it absorbed into my skin well. By the time I had walked down the stairs it had pretty much soaked into my skin and left it feeling smooth and soft."
Both ladies felt that it was great for straight after the bath or a shower and were impressed with the value for money.
"I was really impressed, the speed in which it absorbs into my skin," said Joanna, "I think I will continue to use it over other similar products and I use it every day now."
This particular product got a glowing review from all the mums and when they discovered the price point they all said it was extremely reasonably priced too. This sells for £4.99 at Ocado.
Dove Visible Care Softening Creme Bodywash

This product promises visible results in just seven days. Both of our ladies demanded that they check this feature out so I had to wait patiently for their feedback only to discover that neither of them should become scientists...
Just as a heads up, this is currently on special with Ocado for the bargain price of £2. It normally retails for £3.32.
"This bodywash is very thick and creamy," said Vicki, "I was rather surprised by how soft and foamy it was too. My skin loved it."
"It's quite a thick product with a light and fresh smell," said Joanna, "Once I applied it, it created a smooth, soft foam that was very pleasant."
The cream is nice for rushed mums who want to feel clean and silky quickly. It applies in a whoosh and makes your skin feel truly soft and lovely. All the mums felt that it really did make them feel clean without feeling dried out, something that we all rate pretty highly.
"This is very different from a gel or a soap but it left my skin feeling really smooth," said Joanna.
So, did it make a difference after seven days?
"Unfortunately I forgot to use it for two or three days," said Vicki, "I grabbed up my usual soap out of habit so I won't be able to make an accurate assessment. I can tell you that, used at the same time as the lotion, my skin really does feel fantastic."
I didn't notice much of a difference but, to be honest, I am the kind of person who probably wouldn't notice in the first place. I am not very good at assessing how a spot of skin has changed over a week as I usually can't remember what I had for breakfast, much less what my skin looked like.
I think the important bit is that the bodywash is rather lush and feels fantastic.
And Finally
Once again Dove delivers good products at good prices. This set would be a lovely Mother's Day purchase as mum will appreciate the way she feels aftewards. Hey, if you know your partner has forgotten you then why not nab these for yourself...