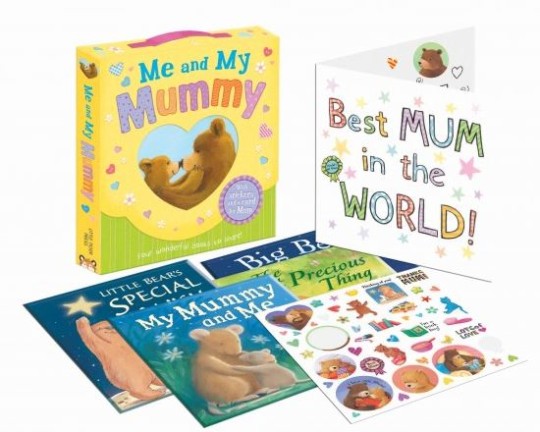 Being World Book Day today, I thought it was a good time to share a lovely gift set with you. The Me and My Mummy Book and Sticker Carry Case (£9.99) is  a lovely set for snuggling and cuddling up for reading time, followed by an art and craft session where you can get your little one to make a card for you, or Nana or whoever else.
The set comes in a nice carry case with a handle. This is nice for show, makes a nice take-along gift, and is great for gift giving, but once the books our out on the bookshelf, the case itself became a handbag for my daughter.
The four books that come in the set are Big Bear, Little Bear, Little Bear's Special Wish, My Mummy and Me and The Most Precious Thing. These are all sweet stories of love between mother and child, and are all good 'bed time reading' sized stories. They are all beautifully illustrated, and leave you feeling all mushy and loved-up.
Included in the case is a large envelope, and a 'Best Mum in the World' card. Along with that there's a sticker sheet with a variety of bears, hearts and kittens that you can use to decorate the card, or even better, to decorate other cards for other family members - maybe a grandmother.
It's a very cute, very sweet gift set aimed at children, but also at their mummies. Or perhaps daddies, to help them get a present ready for mother's day. Whichever way you choose to use and gift the set, it will go down well, and is bound to induce lots of cuddles!