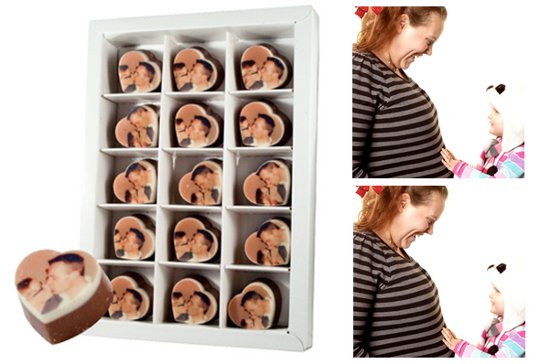 There's never a bad time for chocolate and if you're thinking of breaking away from the eggs and going for something a little more special this Easter, Your Surprise have something absolutely perfect: Chocolate Bonbons.
Actually, the list of things these choccies are ideal for is endless: wedding favours, Christening or naming ceremony favours, presents, commemorations… you name it. There's a way to include them.
Chocolate Bonbons in this instance are a box of 15 chocolates in a selection of shapes – flowers, squares, rectangles, hearts – and with options of white, dark and milk chocolate, filled with cream, caramel or praline, depending on the shapes you choose. You can then personalise the chocolate with an image of your choice, add a card and place your order.
We chose the heart shaped, cream filled, milk chocolate option, which I actually ordered for my husband for Valentine's day and I put a picture of myself and my daughter on it for him.
These chocolate are really good. Yes, they cost more than something you'll get at your local supermarket, but they also taste better and make a much nicer gift. The chocolate is really fantastic too. It's Belgian, and smooth, rich and utterly delicious.
The only note of caution is to make sure the image you upload is clear. In the image above you can barely see my daughter's face under a white hat against a white background, and on the chocolates you just see a bit of her face as the hat and background blur into one. A clearer outline or her without the hat would have made for a clearer impression of her on the chocolate. Still that's not the chocolate's fault!
If I have a party or a Christening or something in the near future, I think a Chocolate Bonbon in an organza baggy with a bit of ribbon and a thank you card would make a gorgeous token of the day for less than £1.50 per person, and as my guests bite into it, I'd be confident in the knowledge they'd think I paid a lot more.