Bayliss And Harding Valentines Day Gifts Review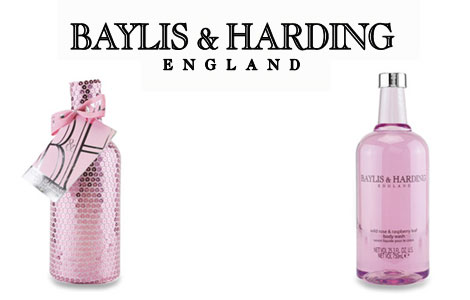 I know it's not February yet, but quite frankly you can never start plotting romantic, lovey-dovey surprises for Valentine's Day TOO soon - I've had Valentine's things planned and sorted for my husband since the beginning of December.
The choices are endless and it's not always about buying big expensive gifts that will hurt the bank balance; in fact, a recent survey revealed that most people felt a warm and loving hug and a kiss was more valuable than presents.
HOWEVER! That's not an excuse to not buy anything at all; no it's NOT!
Baylis & Harding sent us a few little pampering Valentine's Day gifts to review, we sent them to our PlayPennies mum reviewer Sam to try.
"You really can't go wrong with Valentine's Day gifts that means  going off and spend time on your own in the bath!" Sam told us, "Having said that, If you have a man who doesn't mind smelling of roses for an evening then you could always share a bubble bath and a glass or two of bubbly."
We sent Sam Baylis and Harding 'Wild Rose and Raspberry Leaf' luxury bath bubbles, along with a little novelty Teddy Bear soap and some Rose Soap Petals - which were very pretty in their heart-shaped box.
"The bath bubbles bottle was huge - 750mls of it - and it came encassed in a pink sequined bottle bag with a leather heart tag on the zip puller bit (there must be a technical name for that part of zips) with the word LOVE printed on it.
There was also a pink ribbon with a blank heart-shaped gift tag attached to it," Sam continued.
Sam told us that the smell was light and not overpowering like some rose scented products can be.
"The bubbles frothed up nicely and lasted a long time, there are few things more disappointing than looking forward to a relaxing bubble bath where there are no bubbles after two minutes."
Sam wasn't too sure about the novelty teddy bear soap or the rose soap petals though.
"The teddy is cute, he's little and cream coloured and also comes with a little pink Baylis ribbon tied round his neck," she explained, "but to be honest, if my husband gave me this I'd wonder if he hadn't gone a bit bonkers!
Perhaps if you're a teenager who's looking to give something cute to your first girlfriend...maybe it would be ok."
Sam went on to tell us that the soap was awkward to wash hands with because of the teddy bear shape, "Perhaps you're not SUPPOSED to wash your hands with it," she mused, "maybe you're just meant to 'keep' it...but what for? Maybe I'm just being a bit cynical."
The rose soap petals didn't fair much better.
"I really wasn't sure what I was supposed to do with these," Sam confessed, "I mean, they're utterly beautiful to look at but impossible to wash your hands with. Are you supposed to tear the petals apart and scatter them on the top of the water, or what?"
Apparently not, Sam told us she tried this and just ended up with a mass of soap on the bottom of the bath; we were all a bit bemused until Sam told us later that she looked at the underneath of the heart-shaped box and found some tiny printed instructions:
Drop into bath under warm running water
"Running water is obviously the key here!" Sam laughed.
And finally...
The Baylis & Harding Valentine's Day gifts are very inexpensive - the Wild Rose and Raspberry Leaf bubble bath in its sequined bottle cover, for example, is just £1.75.
A little something for your loved one that says 'you go and relax in the bath my darling and take some time out' - and THAT is priceless.
http://baylisandharding.com/bath-and-shower/bath-foam/Wild-Rose-and-Raspberry-Bottle-in-Sequin-Bag
epitomise affordable luxury at between £2.00 - £2.50 each!
Girls who love all things pink and sparkly will go wild for our big bottle of Wild Rose & Raspberry Leaf Body Wash. Gift wrapped in its own, pink sequined zipped bottle wrap, it's a ready-made prezzie.