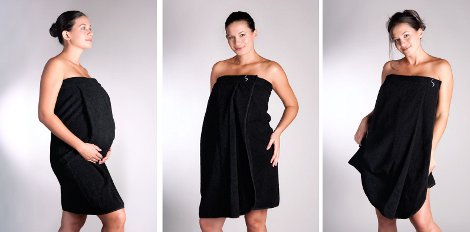 Ah! I'm sure we've all been there: fresh out the shower with nothing but a hand towel on the rail, sprinting through the house with a squeel in case anyone sees you? Well, we received the Robe Around for review, and sent it off to PlayPennies mum Denise, who is currently 31 weeks pregnant and feels that nothing short of a tent fits her.
Denise has two overnight Spa weekends planned before her due date – one with her hubby and one for her Hen Weekend – and says, "Stripping to my swimsuit in a room full of slim girls I barely know is daunting enough as it is, let alone now I am the size of a whale. I know that the hotels we are staying at will provide robes and towels but I a realistic in my expectations as to how much they will actually cover.
Even when I am not pregnant it is a battle to get these towels to meet in the middle, cover my bum and more importantly, stay wrapped around me. You always seem to end up with a triangular gap where the towel meets, the slightest breath of air and it all comes undone into a heap around your ankles leaving you a lovely shade of embarrassed."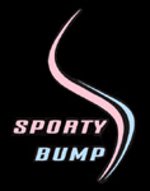 I know what she means. I hate the towels at spas. The Robe-Around. Designed specifically with pregnant women in mind, the towelling wrap-around robe has a clever pleat which expands with the growing baby bump, ensuring complete privacy for the wearer.
"When I was offered the chance to review the robe around I almost tore their hand off. Anything that would afford me a bit more coverage on my spa day was a bonus in my eyes."
The black towelling Robe-Around boasts a strong Velcro fastening to ensure comfortable fitting for women of all shapes and sizes. Unlike a regular towel secured over the bust, which always leaves a triangular area of the pregnant body exposed due to gaping, the Robe-Around's ingenious pleat ensures the mum-to-be's dignity remains intact at all times.
Sporty Bump's spokesperson, Lesley Singleton, comments, "Women are always conscious of their body shape, even more so during pregnancy when such significant changes take place. Thanks to the expandable pleated section of the Robe-Around, pregnant women can feel relaxed in public places, such as the swimming baths, gym or health club. It's also the perfect holiday cover-up, ideal when relaxing by the pool or on the beach.
"My hopes for the Robe Around was that it would do as it says," Denise tells us, "cover my ever growing bump and stay in place. I was also hoping that it would not look too different from a normal towel so that I felt the same as everyone else in the Spa."
Denise was a little dubious when she first realised the Robe Around was a 'one-size-fits-all' towel. "I was fairly big pre pregnancy let alone now that I am 31 weeks. I must admit that I was not expecting the towel to meet in the middle when I first tried it on but there is more than enough room and plenty of growing room too. I also really like the length. Far too often towels barely skim past bum level. It was nice to have a towel that actually covered up the bits you didn't want exposing."
The Velcro on the Robe Around is very strong won't easily slip off, and even withstands the tugging little fingers of Denise's 4-year-old son.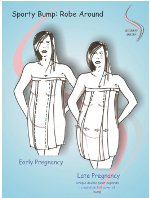 The negatives are few, but dedfinitely worth a mention: The towel seems very rough. I have washed it a couple of times but it still feels rougher than usual towels and is still leaving me covered in black fluff each time I use it."
"That aside", says Denise, "I still think it is a great product. I will be packing it in my hospital bag for a hopeful water birth and I am sure I will use it post birth as we all know that post birth tummies are not what we hope they will be."
And Finally...
The Robe around is available from Sporty Bump at a cost of £20.00 plus £5.00 postage. It is 100% cotton and machine washable.
And finally, from Denise, "I would certainly recommend this for any mums-to-be whether it will be used in public changing rooms or just at home it makes a nice change to find a product to maintain your modesty during pregnancy."