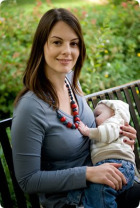 Bella Mama is an online boutique that specialises in a chic range of contemporary maternity and nursing wear for expectant and nursing Mums. They stock everything from dressed-down but stylish loungewear to uber-glam evening dresses to show off those new found curves!
Kirsten, Bella Mama Managing Director, was inspired to start the business after the birth of her second baby in 2007. As a breastfeeding mum she found it increasingly hard to find clothes that made nursing easy at the same time as being flattering  on the post-pregnancy body. The solution? Bella Mama! Kirsten combines her role as mum to two energetic children with running the Bella Mama boutique and a busy household.
Kirsten says; "At Bella Mama you will find an essential mix of transitional pieces and decadent treats that will take you comfortably and stylishly through your pregnancy. Our aim is to make your life as a new mum that bit easier!"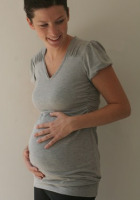 As well as casual tops, vests, sleepwear, nursing tops and party dresses, Bella Mama also offers a unique selection of accessories and gifts for baby, including changing bags, mats, nursing cushions & covers and blankets.
We sampled two maternity / nursing tops from Bella Mama. Needless to say, we didn't have to twist any arms to find an expectant Mum willing to try them on! Catherine Jones is six months pregnant with her first child and had this to say about the sample items she received from Bella Mama:
"On unwrapping my parcel from Bella Mama, the first thing that struck me was the feel of the tops. They were really soft, and lovely to touch. They are 94% viscose, which is nice and stretchy for all your bumps and protrusions!"
The first one our p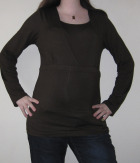 regnant Mum (pictured left) tried on was the Bella Mama Crossover Breastfeeding Top in Espresso Brown which retails at £39.00. Catherine really liked the style, particularly the long sleeves. She found it very comfortable to wear and would happily recommend it to expectant or nursing Mums looking for  a simple and elegant design. However, she felt the price was a little more than she would usually expect to pay for the sort of top that can be worn every day rather than for special occasions.
Next, we asked Catherine and her bump to test-drive the Bella Mama Maia Breastfeeding Top in Black. She loved the versatility of this top, and really liked the design, particularly around the neckline which can be tied in a bow and adjusted for ease of feeding as necessary. This is one of Bella Mama's best-sellers,  with a discreet top layer hiding easy-openings to make breastfeeding a walk in the park. The underlayer goes all the way around to ensure your back and tummy remain covered while you're feeding. At £26.00 Catherine felt this top was really good value for an item she can wear during pregnancy right the way through to breastfeeding.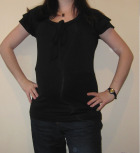 I think this top is an absolute inspiration. When my boys were babies I invested in endless vests to wear under normal tops so that I could feed without flashing any wobbly bits in public but wearing an extra layer wasn't always practical or convenient and this top solves that problem completely.
Catherine had this to say about the Bella Mama tops; "As I have not yet had my baby, I obviously haven't had a chance to really test the full breast-feeding functionality! But having tried them both on I actually think they're really great tops to wear during pregnancy too, as they're quite stretchy but really stylish and elegant, which isn't always the case with maternity wear."
Our verdict? Bella Mama rocks. Some of us here at PlayPennies almost wish we were pregnant again just so we could splash out on the fab range of items that they stock! If you're looking for something for the Bella Mama in your life, or are expecting a baby yourself and need style inspiration, bookmark Bella Mama now.