Celebaby: Blooming Lovely!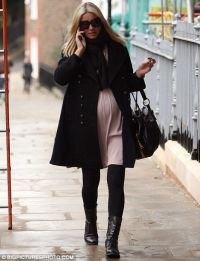 Expectant Mum Denise Van Outen was snapped today looking pretty snazzy with a defininte hint of a bump appearing.
Her baby is due in May, and Denise and husband Lee Mead have nicknamed the baby Teapot, at the suggestion of their friend's little girl!
DVO is also expecting a little girl, and as well  as that she's also bringing out a line of maternity wear and a book about pregnancy health.
According to the Daily Mail, her maternity line will be available from the end of the month at www.very.co.uk. If it's anything like as stylish as Denise herself, we reckon it'll be worth a look.