Blooming Marvellous: 25% Sale, Free Delivery & Extra 10% Discount!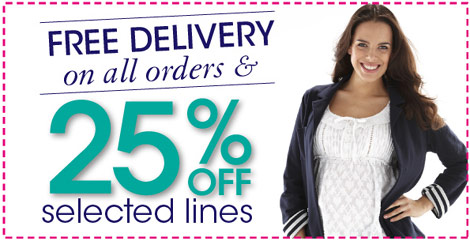 I'm over 8 months pregnant. I feel HUGE, and I am sure many of you mums know the feeling. So sometimes it's really nice just to get dressed up in clothes that actually fit. That's where Blooming Marvellous come in - they currently have a sale, with 25% discount on selected lines (maternity and kidswear)… plus for TODAY only, there is free delivery!
PLUS there is a voucher code which will get you an extra 10% discount on your order!
Voucher Code: AW15
Discount: 10% off
Expires: 25th April 2010
I tested the 10% voucher code on some of their sale items and it worked well.
Remember, you will need to place your order today if you wat to take advantage of the free delivery.