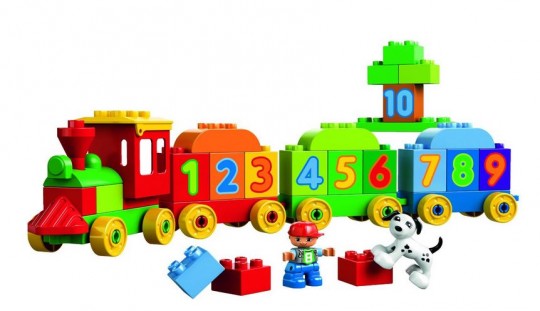 My kids get so excited when the doorbell rings, because when the postman arrives, it's normally with a parcel, and in the parcel there's normally something for one of them!
On the day the Number Train from Lego Duplo (£12.99) arrived, my daughter was actually at Legoland, and when she came home she told me they'd closed our favourite ride while they were fixing up the area for the new Lego Duplo Valley. It's been terribly exciting waiting for that to open - which it has since, and we've been a few times already - and a perfect opportunity to get the Lego Duplo out again.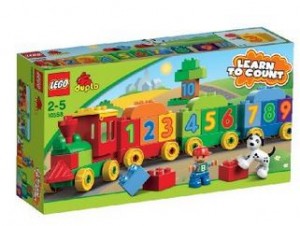 Although she's only three, she's moved on to Lego Friends, which she loves, but whenever her 15 month old sister gets the Duplo out, she's all too happy to play along, and the Number Train is the same.
While my 3 year old can count well into the double digits already, the Number Train was still beneficial for her. We also have the Play With Numbers Duplo set, so we've been able to duplicate the numbers, which has helped with counting beyond 10.
This Lego Duplo box set includes 10 numbered bricks, from 1 - 10, and 3 wagon bases. It also includes an assortment of bricks that can be built into a number of things, like a tunnel, buildings or whatever else. It also comes with a little dog and train driver.
The train set, like all Duplo, really, is robust, colourful and entertaining. It is sturdy, and is going to last forever - or however long children's toys can really last. My little one gets really frustrated when she cant get things to work the way her big sister does, so these bricks have been beaten on the floor, chewed on and thrown across the room and you wouldn't know it. They are very durable.
Speaking of being eaten, the great thing with Duplo, despite being for slightly older children - this is recommended for two years and up - is that the pieces are way too big to be swallowed. In fact, I don't know if any of the bricks can fit in her mouth, which is comforting.
On the same vein, Duplo can be easily cleaned, and I even know someone who has put theirs through the washing machine after everyone in the house was sick with something. I haven't tried that myself, but I doubt the numbers would come off anyway.
While I suppose the set can help with early numeracy, it can't do that on its own, and it requires parental help if you want to teach your tot to count to ten with the set, but another excuse for parents to engage with their children can never go amiss.
When you're not trying to instill learning, and are happy to just let the little ones play, this set is, of course, compatible with other Duplo bits, so we've had the dump truck from one set on the train, alongside bits of the zoo, and even a slide from the Winnie the Pooh Duplo coming off one of the wagons. Such imagination.
I do like the train itself too. I think it's the same one as the Duplo Zoo Train, so it's not entirely new, but it is an unusual piece, and the cab roof is hinged, so it can be lifted.
The only real criticism of the product is that the wagons can't accommodate the whole series of numbers, so if you put them in order, there's no place for number 10. This is a little confusing for the children, but they figure something out.
On its own the set is good for one child to play with, but if you have particularly amicable kids, they can help each other out. Alternatively add it to other Duplo and have a party. The kids will figure out what to do with it without too much help required.
The Good
It's Lego. What's not to love?
The bricks are a great size for little hands to hold, and they're too big to swallow
They're easy to clean
The numbers are printed on, not stickered on, so they are pretty durable too
There's so much imagination in a stack of Duplo. Seriously:
Step 1 - hand Duplo train to child
Step 2 - sit back and watch, helping only when requested.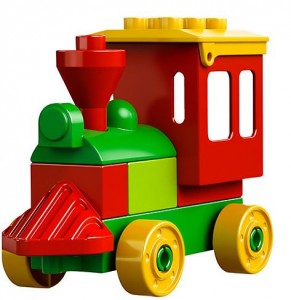 The Bad
The train is just a little too short for all the numbers to fit on
The Verdict
Have I mentioned that I love anything Lego? Duplo is no exception. We love the Lego Number Train.