My 1st Years Sheepskin Booties Review
These My 1st Years Sheepskin Booties (£30) are just too cute for words! I am totally in love with them. At least with the look of them, as I haven't seen or used a pair. But they look perfect for giving as a special gift. I know from when my son was a newborn that so many of the little gifts you get might seem like a great idea for the person giving them, but are totally impractical for parents.
The only way to know for sure is to try them out, or at least read about someone else's experience! So I gave a pair to PlayPennies mum of one, Erica.
I have to admit I am a huge fan of sheepskin booties or slippers for babys. I bought back a pair for my son from NZ when he was two months old. He didn't get to wear them until he was 8 months old though as it was a stinking hot summer here in the UK! But winter was really cold, and it was lovely to know that his feet were always toasty warm even when we were out.
Erica recieved a pair of girls My 1st Years sheepskin booties personalised with the name of her little girl. You can also choose the boys style, but they're not that different.
"When creating your personalisation", Erica explains, "you're able to choose from a few fonts, the size and the colour of the text. It's quite easy to do. You can also have different text on the left and right shoe, but I cannot really think of any use for that... unless you put the kids first name on the left, and the second name on the right!" You are limited to nine characters on each boot. There are two styles of font available, rounded and handwritten.
There's only one sizing option on the site - 3 to 12 months.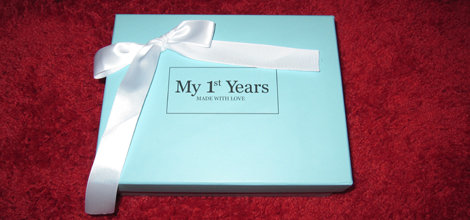 Perhaps knowing that the most likely person to buy these will be a doting Aunt or Uncle, or a close friend or family member, the booties are well presented.  Erica was chuffed. "It was in a gorgeous blue box, with the store name and a nice white ribbon on it. You can see this luxury box in the picture - the presentation is just beautiful and would be ideal if you are making a gift to someone. The box reminded me of a Tiffany box, similar in colour and styling, and it looks really high quality."
And the booties themselves? "The sheepskin is really soft, and the fur inside was so nice that I rubbed it on my face! I chose to write my little girl's name in black stitching. It doesn't stand out very well, so I wish I'd actually chosen the white stitching, or even baby pink, to make it stand out a little more."
The sheepskin booties I had for my son laced at the top to secure onto his foot, and I have to say that this was a right pain. I was always worried that I was pulling it too tight, but if I pulled it too loosely he would soon kick it off. The velcro on these boots seem far more sensible to me. But what did our mum think? "The velcro is really easy to open, as you would expect, and they were really easy to slip on to baby's feet."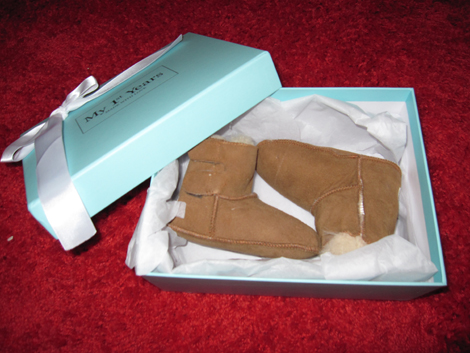 Erica's final verdict? "At £30, the sheepskin booties are a bit pricey to be buying for your own child, but that is the kind of amount I would spend on a baby gift for a friend, and something like these would be lovely."
And Finally ...
The My 1st Years Sheepskin Booties cost £30. Shipping on the site is free for orders over £35. Which won't apply if you're only buying the booties! Recorded first class delivery costs £3.23, and Next Day Delivery costs £6.15. If it is a gift, you can arrange to have the booties delivered to another address, and also include a gift message.