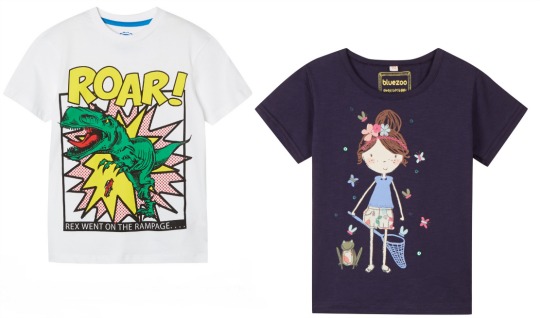 I know, I know...when have Debenhams not got a sale on. This one is their Mid Season Half Price Sale and there's a total of 2238 items included and they start from a teeny, tiny £1.50. I would move quick as popular items will go fast as the savings are great. Remember, you can Collect in Store for FREE and when you do so and spend £30 n your order, you will receive a £5 voucher to spend in store. More details on that can be found here*.
Right, there's lots of school clothes included in the sale so be prepared and get your schoolwear in early this year. Don't wait for the summer when the prices will be £££'s. These Grey Pull-on Trousers* are now £2.10 to £4.50 depending on what size you require. There are other school items too but sizes are limited but have a look as you might get lucky.
With the nicer weather creeping in I can't help but think of the Summer Holidays. T-Shirts are a must and this Bluezoo Dinosaur Top* was £6 -£11 and is now only £3 -£5.50.
If you don't wish to Click and collect then home delivery is at a charge of £3.99.