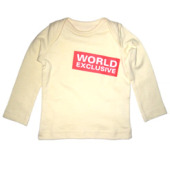 Ooh! Can you keep a secret?
Keep this under your hat but the adorable kids' clothing brand No Added Sugar is having a Clearance sale right now. You'll see no sign of it on their website but I can give you this top secret link if you fancy a bit of the clearance action...
This 'World Exclusive' long-sleeved baby tee is now just £7.50, down from £17.00. It's still available in sizes 0-6 months, 6-12 months and 12-18 months. Likewise this adorable bubblegum pink and cream striped tee is the same price and there are still sizes 12-18 months and 18-24 months left in stock. Also available in a short-sleeved version, it features a gold 'Mummy's Arm Candy' print on the front. No Added Sugar's baby t-shirts are made in Portugal from their own 100% premium interlock cotton, which allows a gentle stretch across baby's body. All baby t-shirts feature envelope necks for easy dressing. This 'So Loved' tee is is also still available in size 18-24 months but you'll need to snap up a No Added Sugar bargain pretty quickly as the Clearance sale won't last forever... and secrets don't stay secrets forever, either!