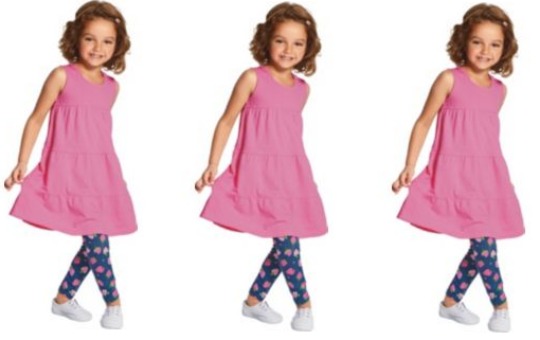 It may seem a little warm for it today, but apparently it gets a little cooler again this weekend, and we all know what our weather is like! Sure, put away your winter coats, but don't write off all things covering - especially not when it's a girl's pink tunic and  leggings for £3.99. These are available in three sizes from 18 months to 4 years, and stock levels are hit and miss depending on where you are, but home delivery is available too.
There's actually not a whole lot more to say on this, to be honest. There's a pink tunic. There are leggings. They're made of 40% polyester, 60% cotton, leggings: 57% cotton, 38% polyester and can be washed at 40C.
I do like my girls wearing leggings when they're willing. They are rambunctious and full of life and, quite frankly, I don't want their pants flashed to the world when they roll down grassy hills. These are a great solution to that.
Delivery is £3.95 extra, so if you can click and collect, that's clearly the way to go.
Thanks to evitka at HUKD