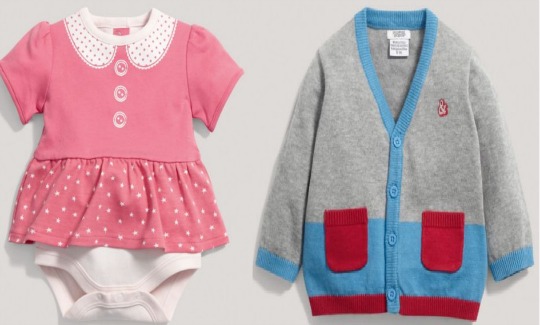 Mamas and Papas have joined in with the Black Friday reductions and have money off EVERYTHING on their site. I am a sucker for baby clothes from them, especially when they are reduced so heavily. They have an excellent selection of baby clothing for both boys and girls, so if you are needing some for yourself or to gift someone, then click the link below and you can pick up some really great buys.
The girls' selection of clothing, at Mamas and Papas, is a good enough reason for me to beg my other half for a daughter. They are GORGEOUS, and let me tell you there's some right bargains. Items start from just £1, so hurry!
Here's my top picks for the girls' clothing: Mix & Match Apricot Spotted Skirt* Was £12 Now £4, ideal for sticking on with some thick woollen tights and boots. This Limited Edition Knitted Crown* is a bit of a novelty item, but is utterly adorable for just £6, reduced from £12. Also, for £6 is this Mix & Match Pink Peplum Bodysuit*, reduced from £12.
For the boys: The Mix & Match Colour block Cardi* has been reduced to £8, and it goes with ANYTHING. I know this because we have one, but paid the full £16 for it! Save £14 on these Tan Slim Fit Chinos*, now only £6.
These Black Friday bargains from Mamas and Papas can be collected for FREE from your local store, or opt for delivery at a charge of £4.95.