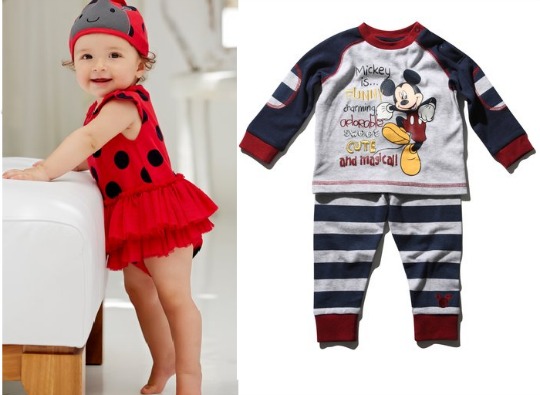 Anyone who know me will tell you that I go daft when buying clothes for my youngest Daniel. I was exactly the same with my older two when they were babies. You can dress them in whatever you like, a bumblebee outfit or a dragon one. This doesn't last long and it soon becomes the time when they dictate what they are willing to wear. M&Co have some very cute babywear in their sale and have launched a FREE delivery on all orders offer today.
Clothes don't come much cuter than this Ladybird Tutu Outfit*. It's reduced from £10 to just £4 delivered. This Bear Fleece Jammawalker* for £7 delivered is adorable too, as is the Tuxedo Print Sleepsuit and Hat* for just £7.70 delivered.
If that sort of cutesy attire doesn't float your boath then check out these more conventional items of clothing: Denim Dungaree and Leggings Set* was £20 now only £8 delivered or this Cord Duffle Coat* reduced from £22 to just £8. That's a £14 saving!
Remember delivery is FREE on any order no matter how little of value it is. Why not check out the other sale sections?