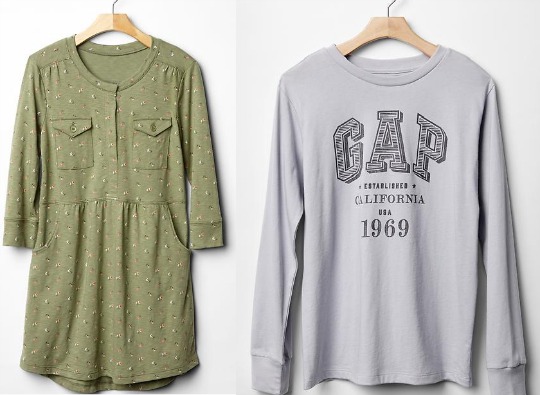 GAP clothing is unlike any other on the High Street. It is very laid back and American looking, if that makes sense at all. A bit like Abercrombie and Fitch, but not as cool. GAP have up to 75% off on Boys' and Girls' clothing, and there's lots of bargains to be had.
The boys' selection is super at the sale with items like the Logo Graphic Tee* for £5.99, Waffle Knit Sweater* reduced from £19.95 to £13.99 and the Graphic Tee* for just £4.99 reduced from £8.95.
I do like the quality of GAP clothing so when they have a GOOD sale on like this then I am known to buy an item or two for my boys. I also like that they are different from your H&Ms and your Nexts.
For the girls, the Marble Pintuck Top* is fab for just £8.99, this Floral Tie-belt Dress* has a whopping £9 off making it just £13.99 and the Starry Slub Tee* is a fantastic find at just £3.99.
Delivery costs £4, or it's FREE if you spend £50+. Unfortunately, GAP haven't started Click and Collect but fingers crossed they do soon!