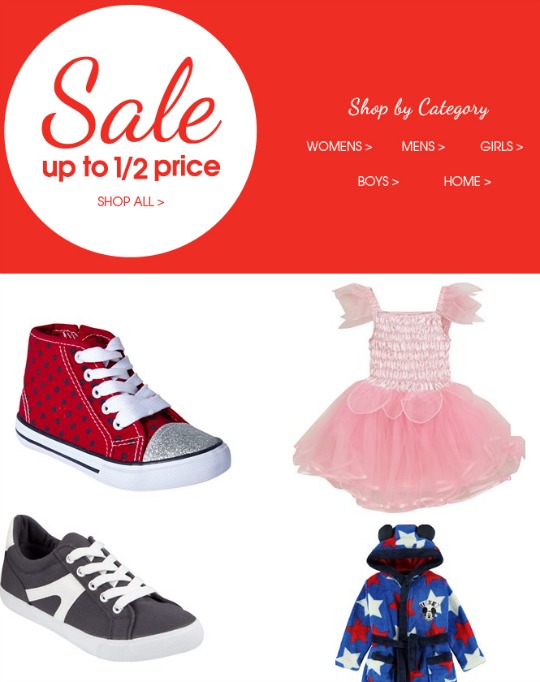 Updated 2/8.
Matalan have just slashed all their prices now to 70% off. While loads of the items below will have gone, if you're quick there's some bargains to be had like the 2 Pack of Baby Sleepsuits* for £2* It really is just a matter of searching through the categories but move quickly as the stock is going FAST.
Online right now and in store from tomorrow (Saturday) the Matalan sale has some really nice things starting at just £1. In an unusual move for a retailer some things actually have more than 50% off, so they've undersold it slightly and I'll come to those in a sec.
If you go into the category you want through the link above you can search by "price low to high" and that gives you a good idea of the reductions (It should do that automatically when you click the link but if it doesn't it's the easiest way to search)
They have lots of summer caps for kids at £1 as are these Pink Girls Slippers* The Kids Ballet Dress* in the picture above is half price at £5 and those items I mentioned that had more than 50% off. Well the boys Boys Canvas Trainers* pictured above are just £4 and have been reduced from £12. More than 50% off by my reckoning. These are for older boys and there's still a good selection of sizes available from 11 up to adult size 6.
There's a decent selection of sizes in lots of things at the minute, which is quite surprising looking at some of the prices. I guess it's because it's such a large sale, some of the gems are hidden, make a cuppa and go through the section you need thoroughly to bag the best bargains.
Delivery is free to a store near you or you can opt for home delivery for an additional £3.95, unless you're spending over £50 - then it's free.
Don't forget if you see something you like online but it's out of stock in the size you need, head to your local early tomorrow for the in store sale kicking off, you may just get lucky.