2 Leggings £4 Or 50% Off Two Items @ Mamas & Papas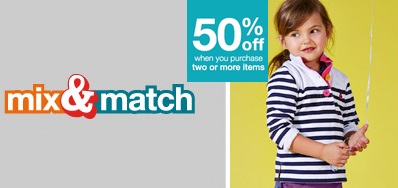 Mamas and Papas have a couple of fab offers on kiddies clothes at the moment, including two pairs of leggings on sale for £4, and there's also another offer, which we think is pretty great - if you buy two items or more, you'll get 50% off.
I'm quite impressed with this sale! I went in with the idea of buying a pair of longsleeves for my daughter, only to find that I could pay £10 for it, or buy two shirts for £10 anyway. Can't fault that logic!
Add three items to your basket - £30, and at checkout it'll be reduced to £15.
Make sure when you choose though, that you select those items that actually say "50% off when you purchase 2 or more items from the Kids range" or they won't qualify.
I think it's a fab offer for stocking up for autumn though.