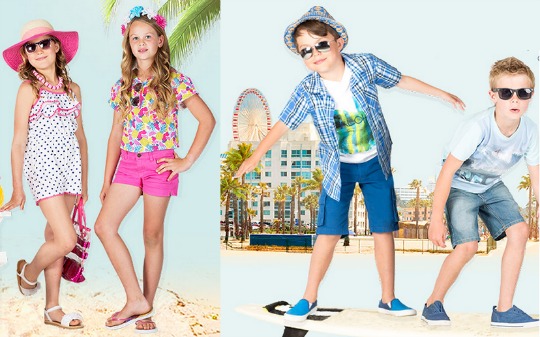 If you are on the lookout for Childrenswear bargains then you are not going to find much cheaper than Pumpkin Patch. I am not quite sure when they turned from "fairly expensive High Street store" to "budget online retailer", but we are not complaining. Just now they have no Children's Clothing items over £10. This includes shoes as well. Plus use promo code UKDRL and get FREE delivery on your order too. There's no minimum spend requirement on that code which is awesome.
I shop at Pumpkin Patch now and again, never have I been disappointed with the items I have received. I do have one criticism, their delivery is super duper slow but with the bargains you can get,  you can't moan.
Here are my top picks at Pumpkin Patch: Dip Dye Shirt* was £15 now £6, Print Dungarees* was £21 now £9, Barcelona Slim Fit Roll Up Jeans* was £19 now £6, Ripstop Cargo Shorts* was £15 now £6, Palms Print Dress* was £22 now £6, Ruffle Set* was £21 now £5 and Border Print Skort* was £15 now £5.
Remember, to use that promo code to get FREE delivery.