I don't know where plastic bags go in your house, but in mine there used to be a plastic bag hanging off the wall, overflowing with more plastic bags and looking generally untidy. We have invested in reusable bags too – so I have a mishmash of reusable bags shoved inside a reusable bag hanging off a hook on the wall, and it still looks no better!
Then I discovered the Trolley-Dolly by ZPM and life, or at least the wall in the kitchen, changed for ever.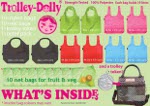 The Trolley-Dolly is a shopping bag that contains six vest-style carrier bags with long handles in assorted colours to help you colour-code your shopping and ten fruit and vegetable net bags which weigh the same as the standard plastic baggies. Each carrier bag can hold 13.7kg, or the equivalent weight of 30 tin cans or 20 bottles of wine.
The elasticated outer pocket, zipped outer pocket, and see-through pocket mean you really don't need to take a handbag with you, as wallet, keys and a nappy and wet wipes can go in the Trolley-Dolly. Additionally, it has a mobile phone pouch and comes with it's own key-ring trolley token, so no more scrounging around for pound coins (although this only helps if your local supermarket uses pound coins – mine doesn't.)
Despite all the space in the bag, it is quite compact and should easily be able to live in the cubbyhole in your car, or discreetly and neatly hang on a coat hook by your front door.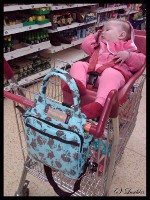 After my first monthly shopping trip, the Trolley-Dolly contained all the shopping, including a 9-pack of toilet paper. I came home and did a little test – I transferred all the shopping to my old reusable bags, filled them up and still needed three plastic bags for the remaining items, and had the toilet rolls to carry.
Many supermarkets give loyalty points for using your own bags, so the Trolley-Dolly can help you build reward points quicker too.
I have also used the Trolley-Dolly to carry five people's holiday washing to the laundromat, and used it to move books to someone else's house!
At almost £30 the Trolley-Dolly seems pretty expensive initially, but I think it is worth every penny in the order it has restored and the money I've saved from the constant buying of new reusable bags.