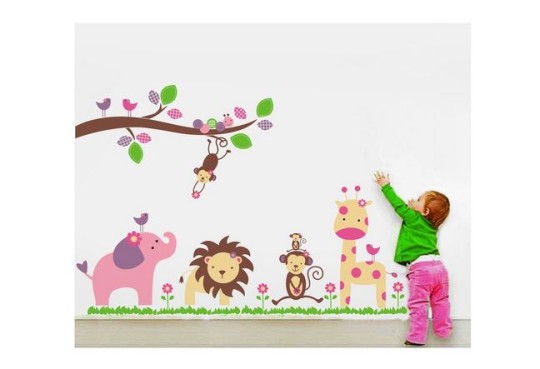 Another Amazon find for you tonight, these Walplus Huge Elephant Monkey  and Trees Wall Stickers are  £2.92 delivered! We've had them at £3.46 as an add-on a month or so ago, but I think this is the best price we've seen them at. I think they're brilliant for changing up a room without spending a fortune. If it doesn't show up at this price, head over to the I-Wallart seller on the right and you'll find it there!
These stickers are for interior walls and windows of your home, bathroom, office, nursery, dorm, or store or whatever. You can attach them to furniture too and since they're extremely easy to apply and remove, you don't have to worry about pulling the paint off them when you pull them off. I have similar wall stickers over the wall paper in our rented house, and so long as it's not a wall that gets regular sun - in our house  nothing gets regular sun! - it will come off good as new.
On painted surfaces and windows, cupboard doors and so on, they are brilliant.
The instructions are simple too:
Choose the place you desired to decorate. Start with a smooth clean and dry surface. Choose the part of sticker that you want to start to apply on wall. Simply peel it off backing paper. Take out the image from the backing paper.Rub it with soft cloth or plastic card
A great way to decorate for next to nothing.