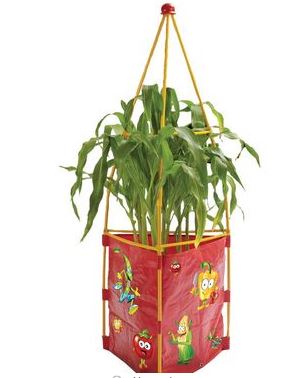 The Range have a slight reduction on the cost of the Tri-gro Kids Grow Kit, reducing it from £9.99 to £7.49. I can't find them anywhere else online, other than used on eBay, but they are quite fun looking and educational.
I am not sure if it's just where we are at the moment, or if it's the same for everyone right now, but I don't know how we don't have a greater 'grow your own' culture with how much my four year old is encouraged to do so! She's come home from preschool with beans, tomatoes and sunflowers over the last few weeks, she's come home from a birthday party with something planted, and even at a family fun day, I left carrying a pot of soil with wildflower seeds in it. I think it's great, and I hope for her that we get some fruit or veg off her planting this year.
This Tri-gro Kids Grow Kit  appeals to children studying national curriculum key stage 1 and 2 (ages 4 - 11). Tri-Gro is a triangular shaped planter, with an easy assembly support frame, made from plastic coated steel, with support brackets. 
It includes 2 x large sheets of fun vegetable character stickers, Fun Facts Trivia leaflet, a grow frame, a planter and a rubber compound dome final . It should make for a bit of fun in the sun, at least.