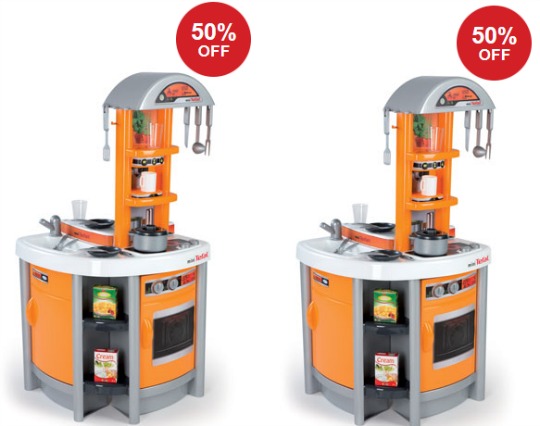 Loads of you have asked us to keep our eyes peeled for kitchens that would be suitable for boys as well as girls and I think this one's exactly that and a great price too from Kiddicare.
According to Kiddicare this has an RRP of £59.99 but I like to have a look around first as RRP's can sometimes be misleading. Debenhams have this kitchen on their website with 20% off, making it £52 down from £65, so it looks good so far from Kiddicare but what about the kitchen itself?
For ages 3 and up, as lots of kitchens are, it's described as being a "very complete electronic kitchen". There's a hotplate with boiling and frying sounds it also comes with a lot of accessories. These are 1 metal-like stew-pot with its cover, 1 white mug, 2 white plates, 2 forks, 2 knives, 2 spoons (metal look like), 2 translucent glasses, 2 boxes and 4 kitchen utensils. Quite often you can buy a basic kitchen and end up spending a good bit more on the things little ones actually need to make full use of it.
This has no reviews on Kiddicare or indeed Debenhams, so we're going by what we see here really. I do like the Smoby brand and have always found their toys to be well made. Assembled it measures 61cm high, 37cm wide and the depth is 99cm.
Since delivery is free, take a few moments to check out the Kiddicare Up to 60% Sale*. They have some great prices, which are made even better if you're not having to add delivery on top.
What do you think?