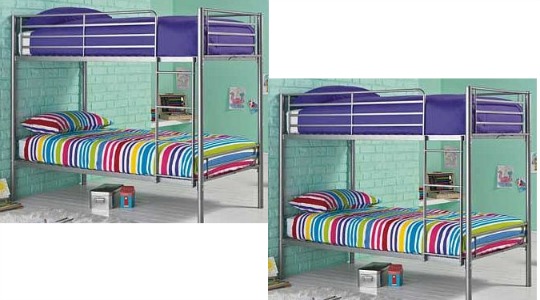 If you have children sharing the same bedroom and you are stuck for space, it can impossible to have two single beds taking up valuable floor space. You may consider a set of bunk beds, however, if you are really stuck for floor space then Shortie Bunk Beds are fantastic. Go over to Argos and you can get the Sidney Shortie Bunk Bed for just £69.99 plus £8.95 delivery charge. These were originally £249.99 so grab this bargain bed now.
The Sidney Shortie Bunk Bed is silver in colour and they are sturdy enough. We had them in our last house as my boys wanted more room to play in their room. Trust me if anyone could test durability it's my boys. Argos recommend them for children aged 6 and above.
These measure in at 184 centimetres long, 84 centimetres wide and 160 centimetres high. Ideal for doing the job but freeing up as much floor space as possible.
The Sidney Shortie Bunk Bed is for home delivery only which means you must pay the £8.95 delivery charge BUT £78.94 for such a bed delivered is a smashing deal.
Thanks to bagthosebargains @ HUKD