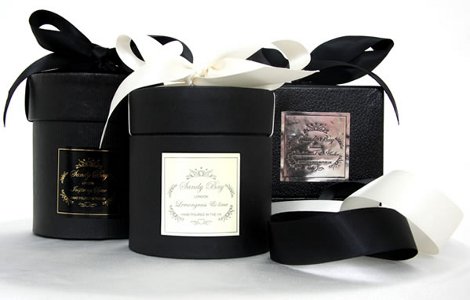 There's little as good as a candle-lit bath to restore the soul and revive a tired mum. It's probably the cheapest form of 'me-time', and since it's in the home, one of the rarest to achieve successfully!
We received a set of Sandy Bay Candles here at PlayPennies HQ and sent it out to Sally, busy mum of three. Sandy Bay Candles are handcrafted using high quality wax and scents to create a luxurious candle range that will fill your home with beautiful fragrances.
"I received two candles in a lovely black presentation box. Both the candles were wrapped in clear plastic gift wrapping and tied with ribbon, one black and one cream," says Sally. "The Lemongrass and Lime candle is encassed in clear glass whereas the Pomegranate Rouge candle is in white glass. The labelling on the front of each candle is subtle and elegant - I like that."
If luxury is what they're going for, it seems Sandy Bay don't miss any touches – including presentation.
Sandy Bay don't offer bog standard Vanilla either. The candles sent to Sally were Lemongrass and Lime, and Pomegranate Rouge.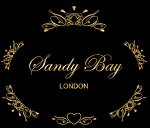 "If I was going to buy a candle I wouldn't choose a lemon scented one; I have a thing about lemon smelling anything, it just reminds me of washing up liquid or bathroom cleaner.  The Lemongrass and Lime candle didn't smell unpleasant before it was lit, just a bit like sherbet lemons and I have no desire for my home to smell like that so I decided to light the Pomegranate Rouge candle first."
Sally had a very hard time explaining the scent of the Pomegranate Rough Candle. "I have no idea how to describe the smell of Pomegranate Rouge to you! I mean, what do pomegranates and rouge smell like anyway?! You could look at the incredibly long list of all the different scents that have been combined to create this candle but they won't help you get a grasp of how it smells. I want to say wonderful but more than that, it's intriguing and, dare I say, beguiling!  Yes, I know, not words you'd usually associate with the smell of a candle but it's impossible to describe.
I can tell you what it's not - it's not fruity and it's not floral, it's not musky and it's not woody either.  It's quite a masculine smell; if it was aftershave on a man it would make my heart race.  I've just sat here sniffing it deeply and yes, if it was aftershave on a man I'd be hooked." Hmmm… that does sound fascinating. Perhaps a new business idea?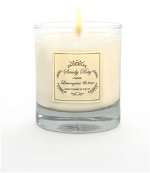 Sometimes the scent of a candle only lingers for as long as the candle is lit and quickly dissipates thereafter. The Sandy Bay Pomegranate Rouge isn't like that. "Within 20 minutes the entire downstairs of the house (which is not small or open plan) is filled with its scent.  In fact, even when it's not been lit for a few days you can still smell it when you walk into the lounge - I'm utterly in love with it."
With her love for the Pomegranate Rouge in mind, Sally rather begrudgingly lit the Lemongrass and Lime candle. "I have to say I was pleasantly surprised - I don't know what's different about the smell of this candle when it's lit compared to when it's not but there IS a difference."
"It's very subtle when it's lit rather than more pungent; imagine the comparison between sucking lemons - that's the unlit candle - and eating a very light and delicate lemon mousse - that's the lit candle.  That's the difference."
We already love Sandy Bay Candles. Sally has seen to that, but we wondered about how long they last. "Both the candles burned beautifully; no wasted wax around the outside and no drowning wicks either"
The problem for Sally, and indeed for us, came in when we looked at the price. "I looked at the price and it all went horribly wrong," says the mum of three. "they are £25 each!"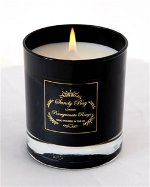 "If they were enormous church candles or the ones that have three wicks, due to their vast diameter, I could understand the price.  But they're not.  They're normal sized glass candles (30ml) and there is no way on this earth I'd pay £25 for them.
If I saw them in a shop I'd wince if they were priced at £10 each, but £25...not a chance, not even for the amazing, racing heart inducing Pomegranate Rouge."
Despite the website's claim that a number of celebrities and famous people use Sandy Bay Candles, Sally wasn't impressed by this – and certainly not impressed enough to fork out that amount of money for them.
"For value for money I have to give them a 1 out of 10, only because I can't bring myself to give a zero," she said, "but for scent, burning time and burning quality I'll happily give the Lemongrass and Lime an 8 out of 10 and the Pomegranate Rouge a lovely 10 out of 10."
Sally's final thoughts on Sandy Bay Candles: "If you've got money to burn then these are the candles for you."