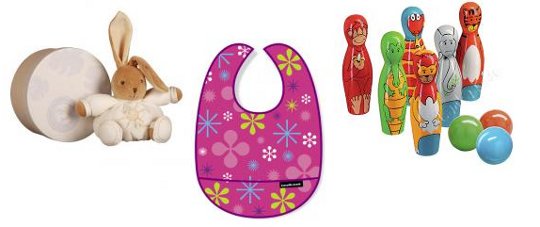 I know there's pretty much no one out there without good sale prices at the moment, and VUP Baby is no exception. They have great sale prices on a fab range of baby and toddler items.
So what's different here?  Well, most things are different to your high street brands, really. For example these gorgeous Crocodile Creek bibswith prices from £2.97.
They also have fabulous gifts available, like the Kaloo Smallrabbit or bear – and these really are stunning. We reviewed the Kaloo Lilirose Chubby Rabbit a few months back, and I am in love with them.
If there haven't been enough toys doing the rounds, there are some pretty great wooden and developmental toys on offer too, some with up to half price off – like theLanka Kade Jungle Skittleswhich are reduced to £10.82.
There's free delivery on orders over £50, and as always,  you won't find any BPA, PVC or other toxic plastics in the items you buy from VUPBaby.