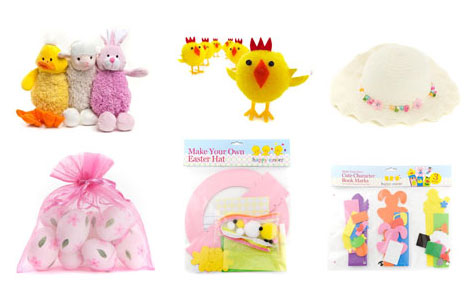 It only seems like yesterday we were reviewing Poundland Halloween and Christmas Goodies! 
I know Easter's not until the end of April (it's as late as it can be, bar one day, this year apparently) but even so, time is most definitely whistling by at a frantic pace.
We sent a HUGE box of Poundland Easter Goodies to PlayPennies mum, Tanya, to review on our behalf.
"Opening the box of things from the Poundland Easter Range was like Christmas all over again," Tanya commented, "there were so many things in there to discover that me and my young daughter decided to take them out via 'lucky dip'; it was so much fun."

The first thing Tanya pulled out of the box were these ridiculously CUTE Easter Farmyard Animals (£1 each)
"These were stolen by my child and have names like Piggly, Mr Duck and Squeaks; she adores them. They are incredibly soft and cuddly, really VERY cute and excellent value for money," Tanya told us.
She also said that each Farmyard Animal is about the size of an adult hand; perfect for your child to be able to take out and about without YOU feeling like you're hauling around everything including the proverbial kitchen sink.
Next up in the 'lucky-dip' were these Easter Chicks with Crowns (£1 for a pack of six) Tanya didn't 'get' these.
"I don't get these but then I am not a 'decorate the house like Christmas for Easter' kind of person," she confessed.
My ex-mother-in-law was and used to make all sorts of Easter cakes and chocolate Easter Nests with broken Shredded Wheats coated in chocolate, moulded into nest shapes, filled with chocolate mini-eggs AND these little fluffy chicks!
"Regardless," Tanya continued, "they are really cute and their legs quite sturdy. I've taken to putting them on toast and eggs in the mornings to surprise my husband.
So far he has not been overwhelmingly amused by them." What an Easter scrooge...

Next up, a Decorated Easter Bonnet (guess how much it costs....go on! That's right, £1).
Tanya wasn't impressed with the Poundland Decorated Easter Bonnet, she felt it was a bit too plasticky and wouldn't buy one.  However, her daughter LOVES it.
"The hat is a nice size and fits most heads," Tanya explained, "and my daughter loves it; she puts it on as soon as she gets home from school.
Seeing as she is the target market for this, not me, I have to say this is a winner."
Tanya made us laugh with her appraisal of the eight little Decorated Easter Eggs; they ARE very pretty and come in a little pink or yellow net bag.
"Personally I would punch anyone who gave me these plastic decorated eggs rather than a monstrous chocolate one, but I can undertand why people would love these," she said.
If you are planning an Easter party, or family gathering, then these would make lovely table decorations taken out of their bags and scattered around place settings perhaps.
Everything was going well with Tanya's Poundland Easter Goodies lucky-dip, until she and her daughter came across the Make Your Own Easter Bonnet; tears ensued.
"This is flimsy and fragile," Tanya told us, "once we had finished building it my daughter wanted to wear it all the time, she was so proud.
But after about half an hour of pre-schooler wear and tear it fell to pieces and was relegated to the bin; tears flowed. Bah Easter humbug!"
The Easter Colouring Mat was a big win in Tanya's household.
"The Easter colouring mat is brilliant," Tanya enthused.  "Not only can kids actually paint this mat for themselves but it can be washed and reused, coloured, washed and reused and coloured over and over again.
It is an excllent product and doesn't have to just be used at Easter."
The Poundland blurb for the Easter Colouring Mat also suggests that it could be used as a floor protector or Easter-themed kids table cloth.
There were lots of other arty-crafty things in the Poundland Easter Goodies box we sent to Tanya, including these Make Your Own Easter Bookmarks.
"These are fun and easy to make sure you have your own glue handy as this doesn't come with any. We enjoyed ourselves immensely making these and will definitely get this kind of thing again.
The Make Your Own Easter Bookmarks are a BARGAIN for about 30 minutes of happy sticking and creating."
Carrying on with the 'Make Your Own' theme, Tanya and her daughter had a go at making some Easter puppets.
"We made the stick puppets and not the felt ones as we were kind of swamped with stuff to make," she told us, "The stick ones also don't come with glue included so we used the standard kiddy craft glue from ELC but they kept falling apart.
They really aren't worth the tears and tantrums. A definite NO."
Tanya and her daughter, even by this time, had barely scratched the surface of all the Poundland Easter Goodies they were sent and we just don't have the time, or the word space, to go through them all.
Other Poundland Easter items included:
And finally...
On the whole Tanya was very impressed with the huge collection of Poundland Easter things she was sent.
There were a few misses among all the hits but with everything costing just £1 you really can't go too far wrong and won't be breaking the bank this Easter.