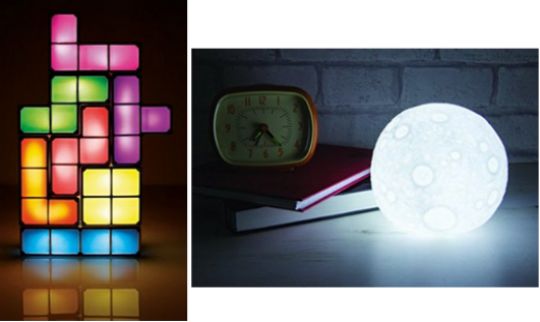 It's amazing how lighting can really set the mood. My boys all have cool lamps in their rooms and each room feels different as you walk in. My youngest son has a little cottage window in his room and we have sat a little toadstool lamp in there. It's a great focal point. Amazon have money off some great Novelty Lighting today, and prices start from only £5.99. A cheap way to accessorise a room.
As soon as I started looking at the reduced Novelty Lighting at Amazon, one lamp really stood out to me. The Paladone Moonlight Table Lamp*. If you have a little Astronomer in the house then it would be a sin not to buy them this lamp. Oh, and did I mention that it is only £5.99?
Another absolute cracker is this Tetris Version 2 Tertimino Light*. Any gamer, big or small will absolutely LOVE this. It's now only £16.99.
You are eligible for FREE One Day Delivery if you have Amazon Prime, if you don't, then you either have to spend £20 to get it delivered for FREE or pay £3.30 if spending £19.99 or less.