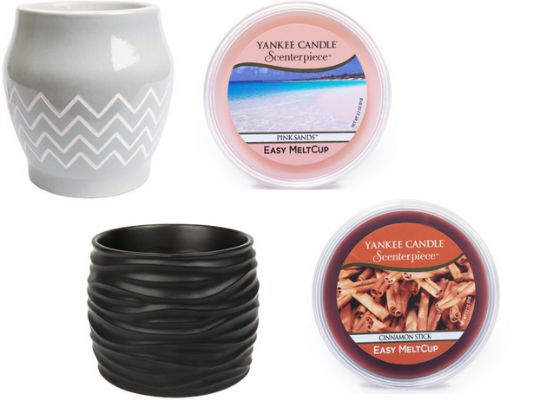 OMG! I am sooooooo excited to discover that Yankee Candle have launched a completely NEW product line. The Scenterpiece and Easy MeltCup collection. If you like you tart melts but hate the mess and the faff of removing them, then this is for you. Not only are they new and exciting but Yankee Candle have an offer running to celebrate the release of the range. You get one FREE Easy MeltCup worth £4.99 when you buy ANY Scenterpiece Warmer. I MUST have one, like NOW! Just add each item and the price of the MeltCup is deducted at the checkout, no code required.
There are currently a choice of FIVE Scenterpiece Warmers on sale, and we are sure this will increase as time goes on. They range from £24.99 to £29.99. My favourite is this Mia UK* one at £24.99.
As for the Easy MeltCups, there are TWENTY fragrances to drool over. Pink Sands* remains a firm favourite in this household. What's yours?
The beauty of this new Scenterpiece system is that it has the fragrance pay off of a Yankee Candle Tart but the ability to change your scent at the drop of a hat. No mess! No fuss! The Easy Melt Cups come in a plastic container and they stay in this as they melt in the Scenterpiece Warmer.
Delivery is £3.95 unless you spend £30 or more, then it's FREE!