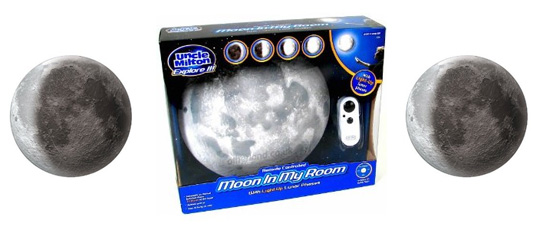 Amazon are selling this 3D illuminated Moon in my Room decoration for £14.08 instead of its original £29.99.
I've always had a bit of a 'thing' about the moon, there's something really magical about it and I wonder whether there's anyone who hasn't, at some point in their life, not wanted to go there.
I'd love to stand on the surface of the moon and look back at the Earth, I'd be scared stupid that something would happen and I wouldn't be able to get back, but WHAT a final view that would be; amazing.
Anyway, this Moon in my Room illuminated decoration also has some educational value attached to it - it illuminates through the 12 lunar phases (waxing and waning gibbous and all that) which can be left to run automatically, or controlled manually via an infra red controller.  Moon in my Room also comes with an audio CD that will reveal all sorts of interesting lunar info'.
You'll need two AAA batteries to power up your Moon in my Room, they're not included, and the sleep function will kick in after a while to make sure they don't run out in five minutes.
If you're still not sure about having a moon in your room, have a read of the reviews - they're rather good.
Thanks to fairy at HUKD