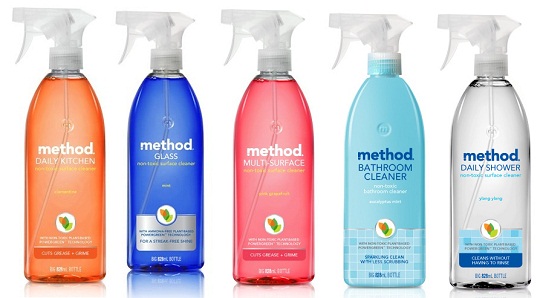 Method cleaning products use ingredients that are safe for every surface and that includes the Earth's. Everything inside these products is safe, and non-toxic. The company also has a sustainable approach to everything it does, and that includes the materials used in the bottles themselves. Where-ever possible the company makes its packaging as recyclable as possible.
I've been a fan of Method cleaning products for the last two years now. Just to get that out there, so you can judge for yourself if I'm biased or not. However, these are the cleaning products I choose to buy as well, and I'm pretty cautious about what I spend my hard earned cash on. This means you can be confident that I'm giving them a fair (and tough) testing.
I've not been thrilled with everything that Method has produced either - they don't always get it right. So when they sent me a box of new products to try out I was determined to give them a thorough try out.
Method sent us the Method Daily Kitchen cleaner, Method Glass cleaner, Method Multi-Surface cleaner, Method Bathroom Cleaner and Method Daily Shower.
 Daily Shower Cleaner
I've saved the first place for the best. The Method Daily Shower non-toxic surface cleaner (ylang ylang) is hands down my absolute favourite ever Method cleaner. It costs £3 for an 828ml bottle and it lasts ages. In our house at least. Probably around 8 weeks.
I use it every time I have a shower. When I'm finished getting clean, I give the curtains, tiles, and fittings a quick spray. And voila, it all looks sparkly clean. It's about the easiest cleaner to use in the entire universe. My shower curtains (my shower is over the bath, and it leaves that looking sparkly too) don't need to be washed anywhere near as often either. So it seems to keep the mould away too.
The ylang ylang scent isn't entirely to my liking. It is a little bit too sweet. But it isn't pungent, and it does leave behind a very light, pleasant, hint of a floral aroma in the bathroom that's quite nice.
Method Daily Shower cleans without having to rinse. According to the website, it uses lactic acid and corn-starch derived glocoside to dissolve and prevent soap scum and  lime deposits. The cleaner is made of non-toxic plant-based powergreen technology.
Pros: lovely sparkly, clean, with little effort.
Cons: not my favourite smell
Verdict: 10/10

 Method Bathroom Cleaner
The new Method Bathroom Cleaner (828ml, £3) smells gorgeous. I love the Eucalyptus Ment scent of this. It makes the bathroom smell really fresh.
According to the website, it uses a naturally derived formula that dissolves soap scum and pesky stains, so you do less scrubbing. It has plant-based surface modifiers help prevent grimy build up.
To be honest, it still requires more scrubbing that other brands of more toxic cleaner, and it is three times more expensive. It's not the easiest to use. However, surfaces were left sparkly and clean, and I did find that it now cleans crusted on soap a heck of a lot easier than previous Method bathroom cleaners did.
Still it is hard to balance the needs of the environment against spending three times as much for a product that's not as good. I think that for the most part I'll stick with Method but I can see that the months where the budget is tight, this will be the first principle to go out the window.
Pros: gorgeous smell, better cleaning power
Cons: expensive
Overall verdict: 7/10
Method Daily Kitchen
Dealing with food, and surfaces that are used in contact with all sorts of things like cutlery, I'm much more keen to use a non-toxic cleaner here. I haven't found one that cuts grease before, and to be honest I didn't have high expectations of the Method Daily Kitchen either (828ml £3).
But happy to say I was wrong. Lots of cleaning power without too much extra scrubbing. And since I have a sink unit that dates from the 1950s, and a stove/oven that is now 15 years old, it really does have to work hard.
The sweet orangy clemintine scent is just lovely. I really like it when I walk into my kitchen and get a faint whiff of it. Make it smell really clean!
Plus the bottle looks just so good on my window sill, especially when the sun shines through!
Pros: does cut through grease, hurrah!
Cons: still twice as expensive as "toxic" kitchen cleaners
Overall verdict: 9/10
Method Glass Cleaner
A permanent fixture on my shopping list is Method Glass Cleaner (828ml £4). I love the new mint smell of this one but I'd buy it even if I hated the scent. I know what you're saying - how much for a glass cleaner? But, I use it on everything, and the last bottle I bought four months ago is only just running out.
As it is non-toxic, it's OK to use on windows even at toddler height (my son loved to lick the glass, I don't know why). But I also use it on all his plastic toys. A little spray and a quick wipe is all it takes to get rid of that finger grime, and the toys look sparkly and like new.
I also use it instead of a surface polisher on my fireplace tiles, my shelve, and my dining table.
Pros: cleans well, and no streaks
Cons: honestly, there are none. Even at £4 it lasts twice as long as any other glass cleaner I've used
Verdict: 10/10

 Method Multi Surface
If you've got a crawling baby, or a toddler who puts things in their mouth all the time, then this is something you'll be interested in. I felt much safer using natural products when my son was a baby. And it is worth paying that bit extra for the Method Multi-Surface cleaner (828ml £3).
In terms of cleaning power alone, leaving aside the issue of toxic vs non-toxic chemicals, is it worth the price? It seemed OK to me. Without testing for bacteria it is hard to say. I do have to scrub a lot harder to get surfaces clean where something is crusted on. That's annoying. I didn't think that surfaces had quite the same sparkly clean feel to them that they do when using other brands. That said, it does the job AND it is using non-toxic chemicals.
I can't describe the Pink Grapefruit scent. I've never experienced anything like it and I honestly can't make up my mind whether or not I like it. I found it really strong so I'd recommend doing a scent test in the store before you buy.
Pros: cleans reasonably well with a little elbow grease, non-toxic so good for areas where baby is crawling
Cons: if you're not worried about chemicals this is an expensive multi surface cleaner
Overall verdict: 8/10