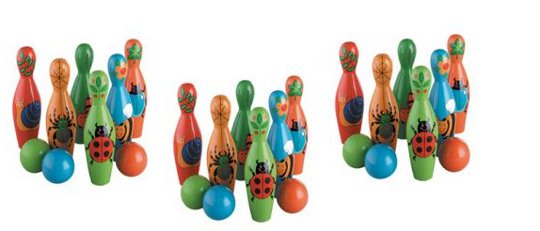 There's more than £10 off the Lanka Kade Minibeast Skittles in the VUPBaby up to 70% off clearance sale. Normally priced at £24, they're now £13.86.
These skittles are just gorgeous, I think. They're made from environmentally friendly rubber wood and each skittle is beautifully painted and decorated with 'minibeasts'.
There a snail, spider, ladybug, beetle. Bee and some other critter I can't quite make out – perhaps a butterfly – each with smiley faces and pretty flower decorations.
The six skittles come with three balls, and the whole lot can be packed and stored in the open wooden box it all comes in.
Skittles are 20cm tall, so they're a lovely size for playing with and I'd imagine they could transform a rainy afternoon into a fun indoor tournament.  Lanka Kade Minibeast Skittles are not recommended for under three's, although I can't for the life of me imagine why.