Who Knew Toilet Paper Could Be Fun?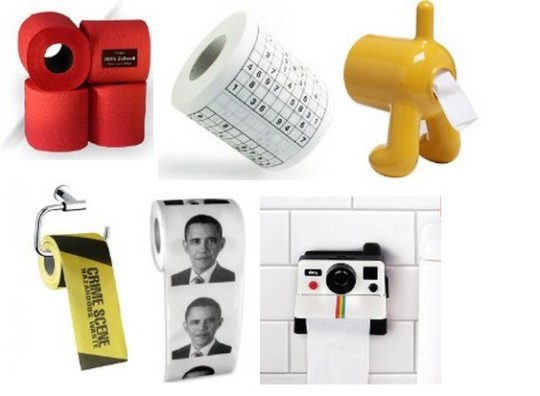 So it's Sunday morning and I'm browsing Amazon, looking for a fab deal, as you do, when I realised that toilet paper, it turns out, can be quite fun!
I have a five year old daughter and a three year old daughter, and much to my horror, they've recently discovered that any joke that has 'poo' as a punch line is hysterical. Even if it isn't. And here I thought that was just for boys.
But back to toilet paper - Amazon has toilet paper with Soduku* printed on, or with jokes* printed on, or even a deep red colour*, if that fits your colour scheme.  Or how about a glow in the dark* roll? That could actually be quite useful! For the politically minded, there are various world leaders' faces you could use, and even a crime scene warning*!
As for dispensers, there's the Polaroid camera*, and the dog's backside*... my kids love the latter.
So these are all novelty items, for most people, I'm sure, but they gave me a smile on a Sunday - hopefully you will too!