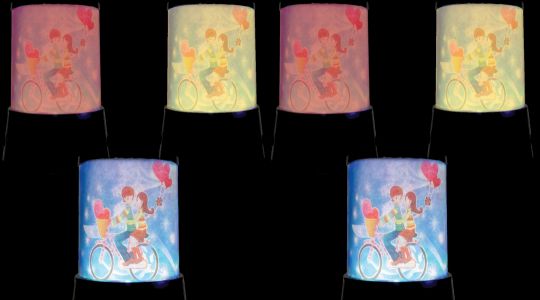 My eighteen month old is frightened of the dark, so we got him a night light. His one has a water effect and looks like the ceiling in a swimming pool. It relaxes him and gets him off to sleep, however it cost me a fortune. UK based eBay seller, Babz is selling Kids Projector Starry Night Light for just £1.99 and that includes FREE delivery. This is a great price and means that it's no great loss if your kid decides he/she doesn't want one in the bedroom.
The Kids Projector Starry Night Light is a no frills one. It doesn't play music, nor does it rotate but at £1.99 delivered, I doubt you expected it to.
I think by the looks of the pictures on eBay, that this light consists of a black light unit that projects stars and a cover with a romantic scene on that sits over the top.
You can choose between multicolour, yellow mode or both. It runs by AA batteries and these aren't included so make sure you have some in the house for this arriving.