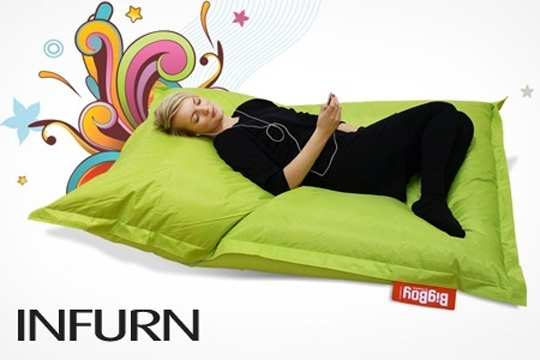 When I say giant bean bag, I mean GIANT bean bag too and it's a bit of a steal (I think, anyway) at £49 rather than its usual £109!
I had a bean bag when I was little - it was red and the cover was made from red fluffy material, I lived and died on that bean bag until I either got too big for it or I 'killed' it with excessive use.
This giant bean bag is not only H U G E - measuring a whopping  140 x 180cms with a 400 litre capacity - it's got double seams and has been made to be TOUGH.
This is good news as not only does it mean all the hundreds of thousands of little polystyrene balls aren't going to be spilling out everywhere, but it also means it can be used outside too.
The giant bean bag is outer available in 10 different colours and the outer layer is water resistant, so there's no need to worry about anyone spilling anything on it whilst they lounge around on it.
It's also got a secured safety system which makes it difficult for inquisitive kids, who want to see what it's like on the inside, to open the bag.
LyncMeUp works in the same way Groupon does - buy your giant bean bag before midnight tonight, wait for your voucher code to be emailed to you, then redeem it and rejoice in the hugeness of your giant bean bag.
Happy giant bean bag lounging!