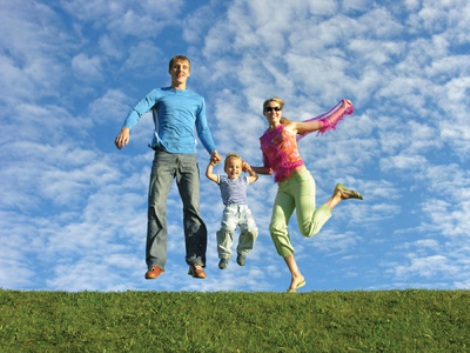 How much time do you spend together as a family?
According to new research, the average family gets just 34 minutes a day together 'undistracted' – time where they feel they actually bond together and catch up without gadgets or routines getting in the way.
The study of 2,000 British families found that long working hours, lengthy commutes and exhaustion are keeping families apart. A quarter of parents find spending enough time with their kids a daily challenge.
What's more, one in four parents feel too busy to spend enough time with their kids.
The amount of time we spend with our families does rise at the weekends but it's still surprisingly small – just one hour 37 minutes was the average amount of quality time that families get together properly, with just over three hours spent together in a whole weekend.
The study, commissioned by Highland Spring, looked to understand the pressures that parents today face. More than sixty per cent of parents said that when they do commit to a family activity together, it's normally something 'non-active' like a cinema trip, film at home or time spent playing games together.
Six in ten said they struggle to get the family together as a whole, with just four meals a week eaten together as a family – often with the kids eager to get down from the table and back to their gadgets.
Highland Spring conducted the research to mark the launch of its 'Everyone for Tennis' campaign, fronted by Judy Murray and backed by British Tennis. The campaign calls on 10,000 families to get active together this summer.
Judy Murray, who is fronting the Highland Spring campaign, said:
"The research shows there is a need to break out of existing routines and into more active lifestyles. Despite the struggle of the daily grind, families everywhere have strong appetites for outdoor games. Tennis can be played almost anywhere with a little bit of creativity and imagination. Our first 'court' was our driveway at home, with two chairs and a piece of rope for the net, and the boys' first 'match' was hitting balloons to each other across the sofa. It's a great way to develop your child's physical and coordination skills. Always start simple and achievable. Success brings confidence, but be ready to increase the challenge when something is too easy. Be encouraging and demonstrate how to do things. Kids learn best by copying."
Does any of this ring true for you? And how do you combat all the pressures that can hold us back from enjoying down time together as a family?