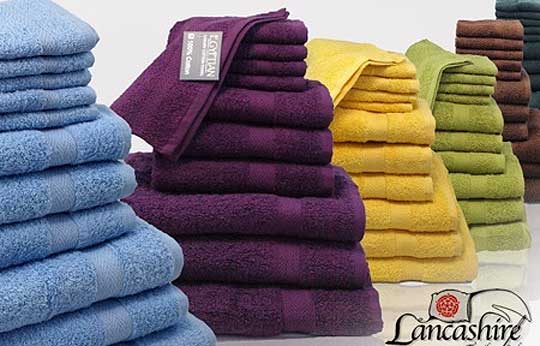 If you're in the market for some new towels, you should take advantage of this Egyptian Cotton towel bale deal that's up for grabs via Groupon.
I'm always in the market for new towels; I have a 'thing' for new towels; I ADORE NEW TOWELS and have to exercise extreme restraint not to buy new towels on a regular basis.
There's just something about brand new, clean and fluffy towels neatly stacked (in size order, it's towel law), in the linen cupboard that makes my heart happy - I'm easy to please, it doesn't take much!
SO, for the grand total of 25 of our Great British pounds (the full price should be £63) we YOU (I really mustn't buy any more towels!) can have one huge bath sheet, two big bath towels, two hand towels and two face cloths.
There are 15 colours to choose from - if I were to buy more towels, I'd have them in Aubergine - you can order as many sets as you wish, delivery will cost you an additional £5.99 for each and will take up to seven working days.