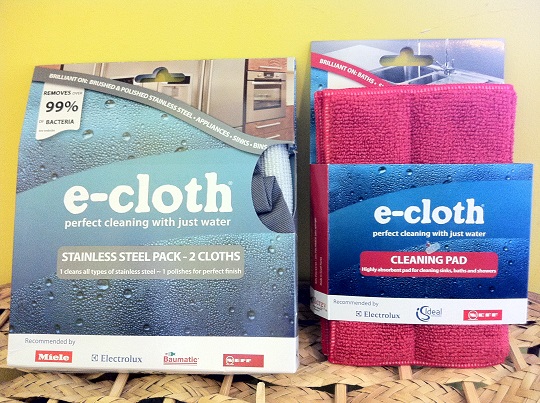 E-cloths are a completely new idea to me. Cloths that you can use to clean, with just water. And nothing else.
I'm not too keen on using chemicals for cleaning. There's the environmental impact, and also I worry about the chemicals we ingest either through our food and drink, or through skin or the air. I read once that on average, most humans in the UK have 14 man made chemicals lurking in their systems. Most of these from cleaning products.
When my son was born, I really went off chemical cleaners in a big way. Most of my cleaning is done with vinegar, lemon juice, and various oils like eucalyptus and tea tree. Plus I use cleaning products like Eco-Over and Method.
Not that these are strictly speaking chemical free. They just use more natural chemicals that won't harm the planet. Vinegar, for example, has acetic acid in its make up, which is a natural antiseptic.
So it was with great interest that I received a couple of E-cloth samples to try out. Read on to find out how they worked, and to see some before and after photos.
If you want to find out about how a cloth can do all this cleaning on its own, go to the E-cloth website. This is a blog post review, and I wouldn't want to parrot their claims without actually verifying whether or not they have any basis. And I don't have the scientific nous for that.
I received the E-cloth Cleaning Pad, a highly absorbent pad for cleaning sinks, baths, and showers (£4.99) and the E-cloth Stainless Steel Pack (£9.49).
To test these out, I left the basin in our bathroom for a whole week without cleaning. Please note that this is something that will never, ever be repeated. We have a 1950s house that had not been updated since we moved in. Although we've been doing what we can, the bathroom has barely been touched. Our basin is the original 50s fitting, and the taps date from the 90s. The cracks are courtesy of a recent attempted by my husband to fit new taps. No you cannot just tap a stuck tap pipe with a mallet to loosen it, and yes doing so will knock off the entire side of a porcelain basin.
This basin is the bane of my life and I will be happy when it goes. It is really tough to keep looking clean, and I have to give it a wipe out twice a day, and a really good scrub every other day.
I couldn't think of a tougher test for these two items. As a 'control' group, I then left it for another week and cleaned it using my usual Method bathroom cleaner. See what you think (because believe me, that's the last time I am doing this. They do not pay me enough to live with this sort of grime here at PlayPennies!).
Here's the before shot. It isn't pretty.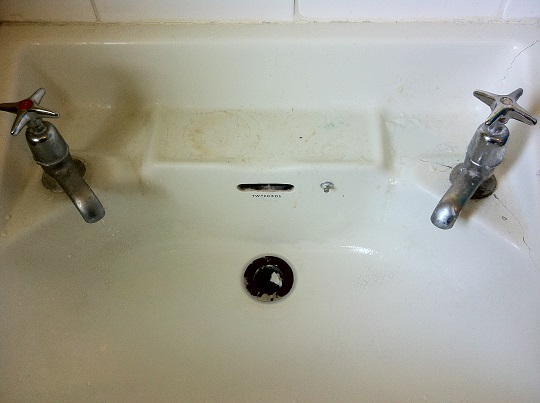 Now, I spent exactly two minutes using the E-cloths to clean the basin. I timed it, and also spent only two minutes cleaning with the Method clean.
You get two cloths in the Stainless Steel Pack. One cleans all types of stainless steel, and the other polishes. Both types of E-cloth also kill over 99% of bacteria. Here's the results: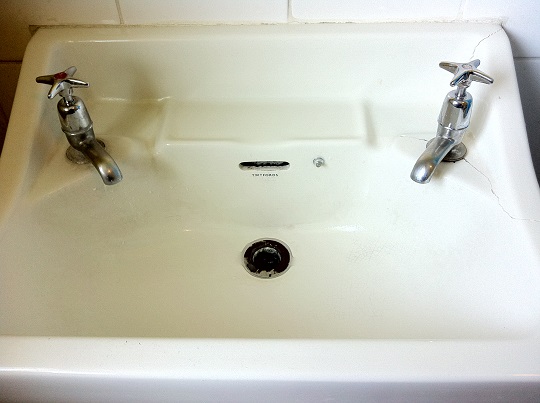 What impressed me the most is the polish on the taps, after just one use of the e-cloths. Also it did an excellent job of cleaning the basin. However, it did not shift the grime that builds up in just one week on an old basin like this. You can see that just above the plughole, and around the sides of the taps. It did work really well on crusted on soap though.
Next I did the same thing using just an ordinary cloth and my Method bathroom cleaner.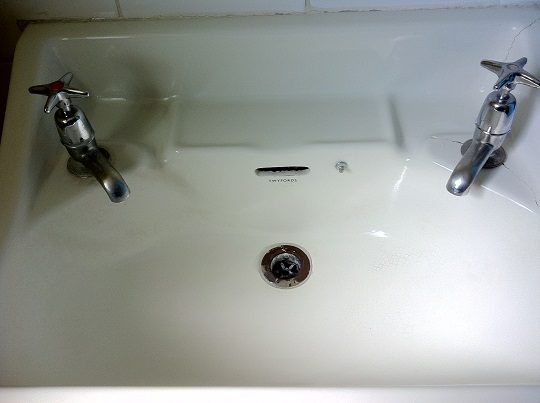 An almost identical result, but the Method got rid of the grime. It is hard to tell from the photo though, but the taps are not anywhere near as shiny and nice as they were with the e-cloth.
This is not a scientific test. But the result for me showed that I can get really shiny taps, and I can get a clean basin, without having to use cleaning products. Overall, that's a good saving in cash. I won't be getting rid of my Method cleaner entirely, but I can say for certain that I'll be cutting back on using it.
Pros: easy to use, great finish, good price, easy to get rid of encrusted soap etc.
Cons: not so good at getting rid of built up grime
Overall verdict: 9 / 10