 I've got a 25% discount code for canvas prints from Snapfish for you.
Discount: 25%
Discount Code: 25CANVAS10
Applies to: Canvas prints
Expires: 7 November 2010
Click HERE to go on over to Snapfish
There's nothing quite like seeing your favourite photographs taking pride of place on your walls.
O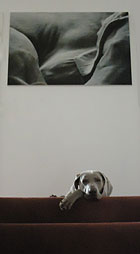 ne of my most favourite canvasses that hangs in my house is of my dog, it's at the top of the stairs and he rather likes  sleeping underneath it.
Of course you don't have to just use photographs – well you do, but what I mean is you could take a high resolution photo of a pitcure your child has drawn, or painty prints of their hands and feet, send it off to Snapfish and have them enlarge it and print it on a BIG canvas.
Canvasses are available in five sizes:
10 x 8 - £24.99
12 x 12 - £29.99
16 x 12 - £34.99
20 x 16 - £49.99
24 x 20 - £79.99
Collage photo canvasses start at £24.99
Snapfish are part of Hewlett Packard and you need to register with them before you can get going, but after that it's very straightforward.
Standard delivery is £6.99 for one canvas and £4.99 for each additional one, if you were buying more than one.
The only problem you might have is deciding which photos to turn into pieces of wall art!