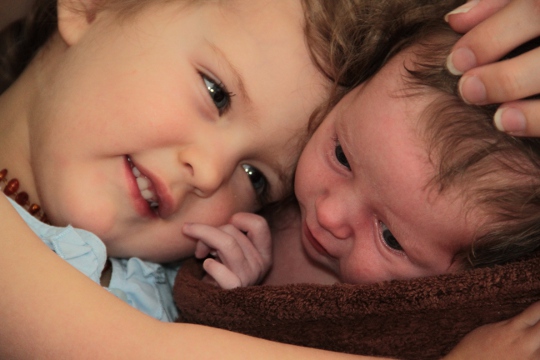 For nearly two years we had just one little girl in the house – our absolute pride and joy – and there are photos everywhere to prove it. We had professional pictures done when she was three months old, and again when she was 18 months. The first set of pictures were cripplingly expensive, and the only reason we even went for the shoot was because we won a free studio session, and one free print. The photos were stunning, but at £120 each or over £1000 for a disc of pictures, we had to let all but one go.  For the 18 month photos we went to a photographer who charged a per hour rate, and gave us a DVD with the 40 best photos at £3 a piece, equating to £120 for all our pictures. We found a canvas printer and had six photos turned into two gorgeous canvasses that now adorn our living room wall.
Along came baby number two and we again had the professional photo shoots – once during pregnancy and once as a newborn. This time we knew the loopholes, however, and went for the photos to disc immediately.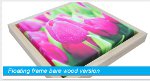 When we were offered the chance to review Hello Canvas, I said yes immediately! I have two beautiful girls now, and four months in is a good time to actually get pictures of the newest addition up in the house.
Hello Canvas have a very user friendly website. On the home page you can browse through all the options, such as effects, colours and frames, and when you have an idea of what you want to do, you can go to upload your image.
Again, here you have options: You can either upload the picture onto their website, or send it by post on a disc or similar. On this screen you can also choose to buy a gift voucher (and these would make fantastic new baby gifts!)
Having uploaded your image you have the option of cropping it to the correct size for the canvas you choose – and the size is listed right there next to it, so no nasty surprises.
On the next screen you choose the options you browsed earlier.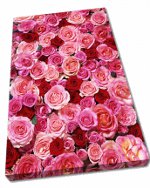 You can choose full colour, sepia or black and white printing. If your picture has a date stamp or red eyes, they'll remove these free of charge. For £30 extra, you can choose from a range of funky effects or £15 for black and white with a colour highlight. You can also choose your frame type – bare wood, black or white frames will cost you £28 extra.  All that remains is to add your personal details. Your shipping is free too.
Once you've placed your order, your canvas is promised to be with you within one week, ready to hang.
So… the delivery guy knocked on the door and had with him a huge flat box. I know I ordered the canvas, but I can tell you I didn't expect it to be quite so big. I opened it, tore off the bubblewrap…. And burst into tears.
In front of me was a simply beautiful picture of my 2 year old cuddling and holding lovingly on to her 3 week old sister. The image is larger than either of them – in fact larger than their heads will hopefully ever be – but it is stunning. The print quality is beautiful, their skins are smooth and clear, and the colours are deep and rich. I'm not sure if there was any post-processing done, I don't think so, but everything, down to the twinkles in my big little girl's eyes, is perfect.
The photo stretches around the sides of the frame so there's no unseemly white glaring back at you, and it comes ready to hang.
It's absolutely superb.
Hello Canvas have a lowest price guarantee, with prices starting at £13 for an 8x8 inch canvas, going up to £99 for a 36x56 inch image (with the extras previously mentioned costing more on top of that.)
The Good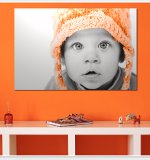 According to their website Hello Canvas have sold over 1,000,000 canvasses and it shows.
The quality is superb
The service is fast
You can order a gift voucher as a present
Shipping is free. I love free shipping!
The Bad
I've been trying to think of something bad for a good 10 minutes now, and I can't come up with anything. Perhaps I'll say that you need to choose your picture cautiously, because especially with a big canvas a bit of goop in a baby eye will look the size of a thumbnail, or a bit of spinach in someone's tooth will look like a tree. You get the message. But that's true of any canvas from any company, it's not bad.
The Verdict
I'm gushing with love. They're perfect. The subject matter may have a lot to do with it, but yes, go. Shop. Just do it.