I've mentioned a number of times in reviews here that my children have sensitive skins and we avoid most chemical cleaners and bath products. From time to time we are sent things that are touted as being 'allergy friendly' and unfortunately, I often end up saying that they're fine for most people, but we wouldn't buy them again.  The most recent items to cross my desk are the Asthma and Allergy Friendly Breathease cleaning range.
Here's the thing. I'm perfectly happy with my home made cleaners - bicarbonate of soda, vinegar and essential oil is pretty much all I need to keep my home sparkling. My husband on the other hand, prefers industrial cleaners that result in me having to open windows to be able to breathe when he's been cleaning. So we try to find a middle ground, and I'm happy to say, Breathease is a product I'm happy to compromise on.
Breathease products still contain chemicals, and you still want to keep them safely away from children, but they are accredited by Asthma UK which means that the products have been scientifically tested and proven to be suitable for people that suffer from asthma and related allergic sensitivities.
I suppose the ultimate test of that claim would be to spray the cleaners directly onto my children, which obviously I haven't done - nor will I - but we have certainly not experienced any new issues since we've been using them.
The range has a fresh, clean scent, which lingers for a little while. It makes the place smell clean, for sure. All the bottles come with a spray nozzle with 'spray', 'stream' and 'off' options, which is good - my kids haven't figured those out yet, so when it's 'off' they can't get at the goods.
The Breathease range consists of:
Window and Glass Cleaner: 
The Window and Glass Cleaner is a clear blue liquid. It sprays on evenly, spreads quickly and cleans streak free. It's particularly useful in the bathroom, where limescale tends to cling to the shower screen.  Also in the rooms with mirrors and all the indoor windows have had the glass cleaner treatment, and it works really well.
Purpose made for showers and tiles, and a bit of a cross over from the previous one, the Shower and Tile cleaner is a great cleaner for the bathroom too. It can be used on the shower curtains or screen, and on tiles or taps. It helps prevent the build up of limescale so in theory you should be able to clean less frequently too. Bonus.
Yet another Bathroom cleaner, this one removes soap scum and can be used all over the bathroom. It also removes dirt and watermarks, so is probably not necessary to have with both the others.
The Multi Purpose Cleaner does what it says on the tin bottle. It can be used on most surfaces in the house, although you need to avoid prolonged exposure to some, which I'm sure is pretty standard.
The Kitchen Cleaner is particularly good at cutting through grime on the stove top. It lifts and removes it quicksharp. It is also anti-bacterial, but studies have shown that there's little benefit to anti-bacterial cleaners over non-antibacterial so I'm not particularly fussed by that.
Each of these cleaners is around £3 at Tesco, where they are currently exclusively sold. As you can see there's a lot of cross over, however, and if I was buying it again, I'd probably buy just the bathroom cleaner and the multi-purpose cleaner as that should pretty much cover all the bases. Okay, and the window cleaner.
The Good
The products are easy to find if you have a Tesco near you, which I'm sure most of us do.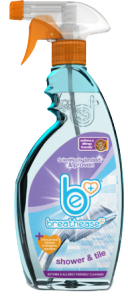 They have been tested and found to be allergy friendly, which will be good news for the 50-odd percent of UK households who have allergy sufferers in them.
They work, which in the end is the most important thing you want in a household cleaner.
The Bad
To be honest, in this case, I don't consider the cost bad. 'Cheap' cleaners are probably about a third of the price of these, but they're not good for you to breathe in, much less your children, and we've yet to see the fallout from using astringent cleaners in our homes.  It's more expensive than alternatives, but considering what it's meant to be, it's a pretty good price especially since you don't have to have them all to clean your house.
The Verdict
Well, my husband likes it. I still prefer my home made cleaners, but he is happy with these, and he often uses them when he's doing his chores. It's a great compromise and I'm happy to make it for something that's less harsh for my children.