(EXPIRED) BOGOF on Selected Kids Duvet Covers, Cushions & Fleeces @ Tesco Groceries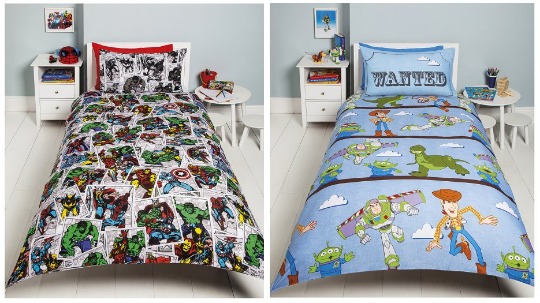 This is a fantastic offer, but oddly it's only at Tesco Groceries online, rather than at Tesco Direct, so we're hoping it's in stores too for those who don't get their groceries delivered from Tesco.
Tesco have Buy One Get One Free on selected kids duvet cover sets, cushions and fleece blankets, including some Disney designs. Prices range from £8 for the cushions to between £10 and £14 for the duvet sets, so these works out amazing value with the cheapest free.
There are a total of 11 different designs of Tesco's own single duvet sets in this offer at £10 each, then there are 6 character sets at £14 each - Mickey Mouse, Toy Story, Jake and the Neverland Pirates, Marvel Comic, Mr Men and Star Wars Rebels. The £8 cushions are Avengers and Star Wars Rebels designs, and the £10 fleece is a hooded Minions one.
Click here for BOGOF on kids duvet sets, cushions and fleeces @ Tesco Groceries*
Because this is an offer online at Tesco Groceries then you can just add them to your normal online shopping order, or create a new account and order them. There will be a delivery charge of £4 if you are below the £40 spend threshold for grocery shopping, plus the normal charge for the delivery slot which starts at £1. This is where being a Tesco Delivery Saver customer comes in really handy!
As these items will be picked in the store that your groceries are delivered (which may not be your closest store) the stock avaialble will depend on what is in store, so it's unlikely you will get the whole range to choose from. Remember to add a note to the picker if you are happy to substitute the design.
This offer is only for the Bank Holiday Weekend and finishes on Tuesday 5th May.
Thanks to NinurtaEnki @ HUKD