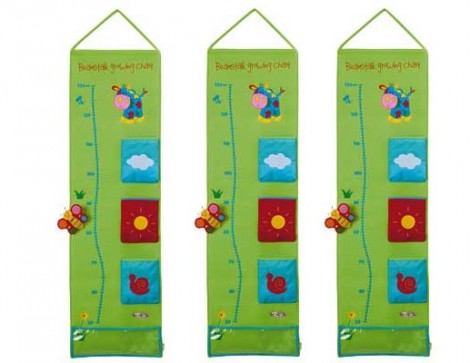 This material height chart is £3.99 at Argos, which is around 70% off the original £12.99.
I always love signing in to HUKD and finding something I'm actually looking for on offer. It's such a 'yay' moment knowing I've saved money – for a change!
I've been looking for a height chart for my daughter, and this looks lovely. While the description says 'colours may vary', it can't be that different, can it! Either way, I'm just thrilled to find one that isn't predominantly pink or covered in princesses or fairies.
With measurements from 50cm to 130cm it's not the largest one you'll find and some of the reviewers mentioned needing something else to start off with – not a problem here as my daughter was born at 52cm.
One short coming of this height chart is being able to write dates on it, but I'm sure a good fabric pen will take care of that.
The Beanstalk Children's Height Chart is currently available in some areas for home delivery, and they are still in stock in the three postcodes I checked around the south of England.
Many thanks to kitkat at HUKD