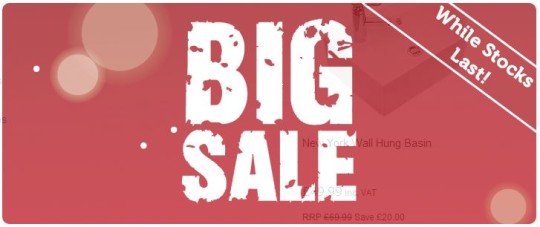 Splash Direct has a bathroom sale on at the moment, running while stocks last. I can honestly declare that I know nothing about home renovations, but this is their 'big sale' so there should be some great savings for those of you planning on redoing the bathroom this year.
We once lived in a house that had a caved in toilet room floor, so you literally had to hang on the door handle and swing yourself around it, to avoid falling through the floor into the downstairs neighbour's living room. You couldn't see in, but if you stood on it, you had every chance of changing that, I'm sure. Student housing, eh?  That was a house that could have done with a bit of renovating!
If you're planning on replacing basins and bath, or showers, this sale will help you feel like you're in the lap of luxury in no time - specially with up to 60% off on tubs!
If completely redoing the bathroom isn't an option, you can make a huge difference to it with a splash of colour, some new furniture and a couple of accessories - one year my sister did just that for us for Christmas, and it felt like we'd moved into a show home. The bathroom did, at least. It was so relaxing!
A new mirror, a new shower curtain, and you're well on your way.