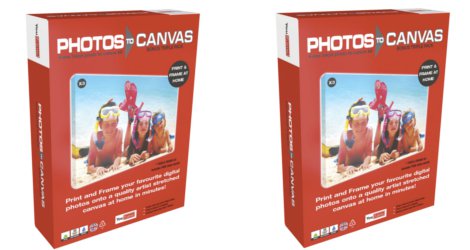 If you've ever fancied having a go at printing and framing your own canvas prints, now you can and for £5 instead of £20 - that's a 75% discount for the mathematically minded among you.
There are three stages to this process, and they are really very simple.
ONE
Click the link above and pay £5 instead of £20 (through Groupon) for a you-frame.com do-it-yourself canvas print kit, and you will be emailed your personal purchase code that you can use from tomorrow (Tuesday 21 December 2010)
TWO
From 2pm onwards on Tuesday 21 December you have two months, before your code expires, to go to you-frame.com, create an account, add a do-it-yourself canvas print kit to your basket and enter the codes you were sent from Groupon (you'll have to pay for delivery, which is £3.95).
THREE
When your do-it-yourself canvas printing kit arrives, from you-frame.com, follow all the instructions - there are video tutorials on their site too - and you'll be able to print three of your own canvasses using your ordinary inkjet printer, and frame them to!
I think this would make a lovely pressie for kids who like to get involved and be a bit more hands on with their art work, or for yourself if you like this sort of thing too.
This deal is time sensitive - you have until MIDNIGHT TONIGHT to pay £5 instead of £20 for a do-it-yourself canvas print kit from you-frame.com