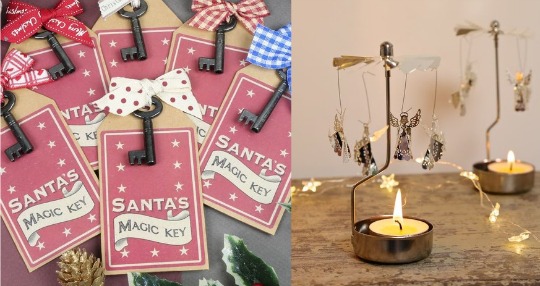 I don't know about you but I just love all of the little quirky bits and bobs that come with Christmas. It's those little touches that makes Christmas so magical. If it's pretty and unusual that you are after then I recommend you hot foot it over to Lisa Angel. I had never heard of Lisa Angel until Luschka showed me the site earlier in the year. They always offer FREE delivery, and they sell beautiful personalised jewellery as well as Christmassy accessories.
The Christmas sale over at Lisa Angel is super, with cards and gift wrap that you just won't find anywhere else. I guarantee you, your friends will ask where you got them from.
The idea of a Santa Key* isn't a new one, but this one from Lisa Angel is reduced to £4 delivered and is pretty enough to pull out year after year.  I have been a bit stuck on the theme of my Christmas table this year and when I saw these Angel Rotary Tealight Holders* for just £4, I had a eureka moment. These are SO pretty and spin around with the heat of the candle.
Wrapping presents is one of those tasks that you either love or loathe. For me it's absolute detest! Anything to make my presents look better and distract from my poor wrapping gets the thumbs up from me! Things like this wooden gift tag* are super or this "Don't Open Until 25th December" stamp* are just the ticket and are also reduced in the sale.