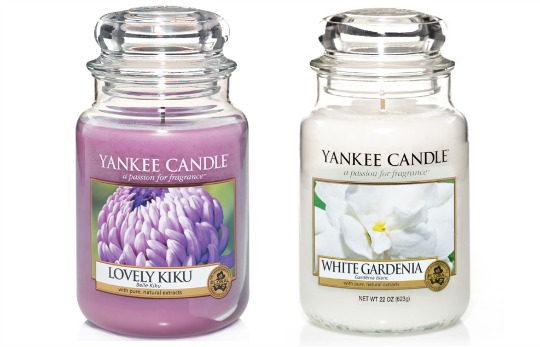 We know Yankee Candles are a firm favourite with PlayPennies readers, and although the sale has finished there is still the 25% off the Fragrance Of The Month offer.
The fragrances with 25% off for March are Lovely Kiku and White Gardenia, both sweet floral fragrances that would make lovely Mother's Day gifts.
With these discounts the prices work out at £14.99 for the Large Jar, £12.75 for the Medium Jar, and £5.99 for the Small Jar Candle. The tea lights, wax melts and votives also have 25% off both of these fragrances. Postage and packing starts from just 99p.
Incidentally, the Fragrance Of The Month seems to be different in stores from online, and I had assumed it would be the same everywhere. In Beales today it was Strawberry Buttercream and Black Coconut, and I thought it was those I would be writing about this afternoon! (The Black Coconut is absolutely wonderful, whilst the Strawberry Buttercream is too sweet even for me!)