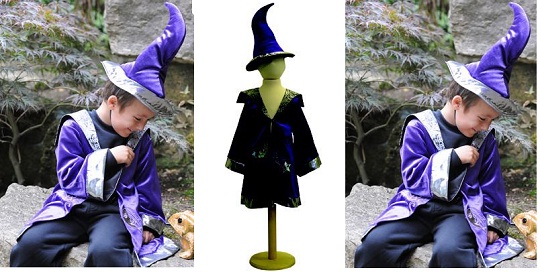 I'm getting to be a bit of an expert on children's costumes. My son loves dressing up just that much. The nicest, loveliest, most gorgeous costume I've ever seen for children or for adults is in his wardrobe. It is this Wizard Costume, and I have to say that the photos there just don't do it justice.
For one thing, they make it look blue, on my computer screen at least. Whereas it is in fact a rich, deep purple. I do have to warn you though that it is also the most expensive dress up outfit he owns as well. The costume costs £29.95. But the quality is well worth every penny.
It really does depend on your child. If you have one who is just in love with dressing up, and really gets into character, then it is a joy to find costumes like this one. It arrived in a large, sturdy box, shaped rather like a pizza box. The sort of box that a heroine in a movie opens to find a gorgeous, expensive evening dress.
The costume was beautifully wrapped in tissue paper. When he saw it, my son's first words were "oh I quite like this". Which actually surprised me because I was sure when I first saw it in the box he'd pronounce it as too girly to wear. Just goes to show you never can tell!
We haven't work it to the party yet. The Witches and Wizards party he is going to is on Monday, and he doesn't want to wear it out until then. But it has spent a lot of time on my son, as he has played around the house. Other costumes can look frazzled after a few games of jumping off the sofa and rolling across the cushions placed on the floor, but this one has held up well.
It is available in two sizes, 3 to 5 years, and 6 to 8 years. The website is called Swimbabes, which I found slightly confusing as it really is all about that - swimming with babies. However, there is a section for the fancy dress costumes, and I did really enjoy browsing through the lovely outfits they sell.
The website describes the costume as a cloak. However, it does have a button to fasten on the front. There's a silver brocade collar, and silver trim on the cuffs and bottom of the cloak. There's a silver and embroidered bat on one side of the front, and a moon and star on the right-hand side.
The hat has a silver brim, and the peak is fairly stiff, so stands up quite well. But is soft enough to have that authentic slightly floppy look that's just so cute.
As is so often the case with boy's fancy dress costumes, I wish they would not use so much pink. The label is attached to the costume with a pink ribbon, and the embroidery on the detail has a pinkish hue. If your child loves the costume, as my son did, then it probably won't matter. I can see though that for some boys it will be instantly off putting, as that whole gender colour thing is pretty big at this age. That's the only fault I could find with this costume though. Overall, I just wish I was small enough to wear it too.