Tesco Halloween Biscuit Review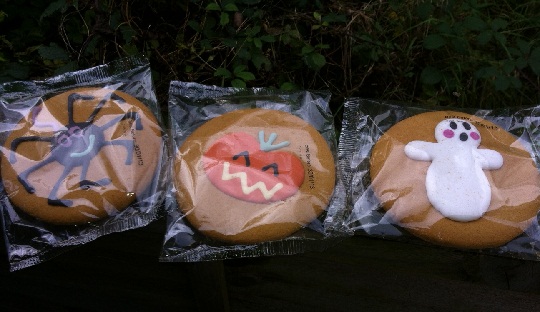 If you don't like gingerbread biscuits then stop reading now. This review is not for you. If, on the other hand, you love the spicy tang of ginger exploding on your tongue while your mouth is coated in the sweet goodness of biscuit, then read on. This review is most definitely for you.
Tesco *has a whole range of Halloween stuff in this year, and I suspect that the vast majority of it is plastic tat waiting to clog up a landfill. But in amongst the stuff are a few gems. One brilliant idea are their Halloween biscuits. But are they tasty, or just over priced cardboard? There was only one way to tell.
We tried out a very unscientific taste test on two adults, and two children aged 5 and 7. Here's what they thought.
The biscuits come individually wrapped, which could be a great idea for giving to children at a party, or as a really special Halloween treat. There's three of them - pumpkin, ghost and spider. And they cost 90p each, which is pretty good as they're a fair size. It is hard to tell from the picture but they're bigger than the palm of my hand.
My first surprise really was how gingery the biscuits are. There's a bit of a bite to them, and that's a major plus for me. I hate sugary ginger flavours. I prefer my ginger to taste like it has been freshly ground. It made me wonder though if it might be too strong for little taste buds, which are so much more sensitive than our grown up ones.
The second surprise was the texture. I don't know why, but I thought the biscuits would be quite soft for some reason. Perhaps because they're from the Tesco bakery section. However they're not. They fairly crisp on the outside, with an inside that melts nicely once in the mouth. In other words, the proper sort of biscuit, and none of this cookie malarky.
I was a little bit let down by the icing. I thought this would have a bit of flavour to it. Maybe orange for the pumpkin and vanilla for the ghost? It doesn't, although it is very icing-sugarish, something that will appeal to young tongues more than adult ones. The icing is hard though, and you do have to really bite hard when eating the ghost, for example.
So, the adult's verdicts? Biscuits got a definite thumbs up from all of us. And they went down very nicely with a cup of tea. The ginger spice made us all feel this would be the perfect biscuit to warm you up, munching away outside on a crisp Autumn night.
The icing got a thumbs down. The adult who tried out the ghost biscuit was worried they might lose a tooth! The other biscuits were thin enough with icing not to be so much of a problem.
More importantly was the children's verdicts. Well, one of them managed to get the icing ghost off the biscuit intact, and eat just that declaring it the best ghost ever and could I make all the icing on my biscuits crunchy in the future please (yes that was my offspring). However, the biscuit itself had too much spice to it for his liking.
Not so the five year old test who virtually inhaled his biscuit in one go, and asked for another straight away. He said it was the best Halloween biscuit he'd ever had in his entire life, but since I'm not sure he really remembers Halloween last year I think he might have been exaggerating just a tad. In five year old boy's speak, I think that means he liked it.
Pros: excellent biscuit texture, good price, very spicy ginger flavour
Cons: icing not to everyone's liking - hard and slightly flavourless
Overall verdict: 9/10